Make It a Destination Memorial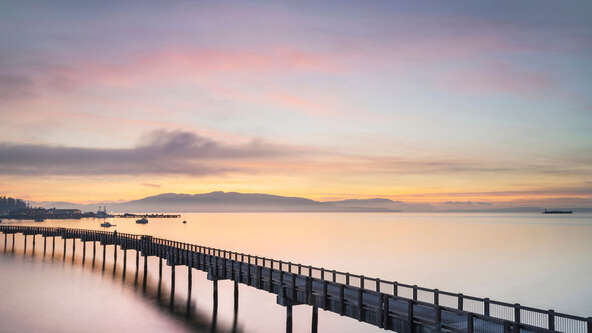 You've heard of couples starting married life at destination weddings. Destination memorials are a beautiful way to celebrate the end of a life well-lived. Keep reading for ideas on where your family can honor someone special.
There is no right or wrong way to honor a loved one. More families are moving away from traditional or religious ceremonies in favor of personalized celebrations focusing on someone's life rather than their death. Direct cremation makes it more convenient to be flexible about how, where, and when you hold a memorial service.
Memorials Are Where You Make Them
If your family and friends are scattered throughout the country, selecting a location halfway between everyone for the memorial might be more accessible. Or if there is a place that holds a special meaning for your family, perhaps that is the ideal destination for your loved one's life celebration. And finally, some free-spirited families might just toss a few popular destinations into the mix.
Here are a few suggestions for a destination memorial.
Celebrate Their Life in the Golden State
With a mild climate and diverse geography, California offers endless outdoor adventures, including surfing, hiking, skiing in the Sierra Nevada mountains, and exploring the scenic Big Sur coastline.
California boasts stunning coastal landscapes, towering redwood forests, picturesque vineyards, and breathtaking national parks like Yosemite and Joshua Tree. Imagine holding a life celebration in the state's wine country, Napa Valley and Sonoma County. Raise a glass to their memory amidst wine tastings with picturesque vineyard views.
From the glitz and glamor of Los Angeles to the vibrant winding streets of San Francisco, California is home to world-famous cities that offer diverse cultural experiences, famous dining scenes, and iconic landmarks. You can also explore some of the best theme parks, including Disneyland Resort, Universal Studios Hollywood, and SeaWorld San Diego.
Meet in Arizona
Arizona offers breathtaking desert landscapes, including iconic saguaro cactus forests and Sedona's beautiful red rock formations. Imagine holding a memorial in one of the world's most awe-inspiring natural wonders, the Grand Canyon. While scattering ashes at the Grand Canyon is prohibited, you may apply for a permit to hold a celebration of life ceremony in Grand Canyon National Park.
The state has a rich Native American heritage, and places like the Heard Museum in Phoenix and the Navajo Nation offer opportunities to learn about and appreciate their art, culture, and traditions. If your loved one was of Navajo descent, it might be possible to hold a memorial service (with tribal permission) on their native land.
Was your loved one fascinated with outer space? Meteor Crater near Winslow is the best-preserved meteorite impact site on Earth.
Create a Memorial in Colorado
With numerous national parks, forests, and lakes, Colorado is an outdoor enthusiast's dream, offering white-water rafting, mountain biking, fishing, camping, and rock climbing. The majestic Rocky Mountains offer many beautiful spots for a life celebration, including Rocky Mountain National Park. Scenic Trail Ridge Road has many opportunities to safely and discreetly scatter ashes. Please note that you must obtain a free permit before scattering ashes within Rocky Mountain National Park and comply with park rules.
Denver, the capital city, combines a thriving arts and culture scene with a vibrant food and craft beer culture. Cities like Boulder and Aspen also offer unique charm and potential sites for a memorial. Colorado is home to numerous natural hot springs, such as Glenwood Springs and Steamboat Springs, where guests can relax and soak in mineral-rich waters while surrounded by stunning mountain vistas.
Honor Them in the Sunshine State
From the turquoise waters of the Florida Keys to the pristine white sands of the Gulf Coast, Florida offers 1,300 miles of coastline for a beachside memorial. Neptune Memorial Reef, off the coast in Miami, is a vast artificial reef where you can place your loved one's ashes. Vibrant fish and sealife have made Neptune Reef their home and safe haven. It is a lovely resting place for someone who loved the ocean.
Florida boasts diverse ecosystems, including the Everglades National Park, a UNESCO World Heritage site known for its unique wetlands and wildlife. Visitors can take airboat tours, kayak through mangrove forests, or go birdwatching to experience the state's rich biodiversity.
Florida's year-round sunny weather and warm climate make it an ideal destination for memorials from Tampa to Tallahassee. There is also plenty of golfing, shopping, dining, and nightlife in Orlando, home to Walt Disney World and Universal Studios Florida.
Remember Them in Washington
From the regal peaks of the Cascade and Olympic Mountains to the serene beauty of the San Juan Islands, Washington has plenty of breathtaking spots for a memorial. There are national parks, scenic hiking trails, and picturesque waterfalls like Snoqualmie Falls.
If your loved one appreciated urban sophistication, Seattle offers a vibrant music and arts scene, the iconic Pike Place Market, the futuristic Space Needle, and the world-famous coffee culture.
Washington is home to a thriving wine industry, with the Yakima Valley and Walla Walla regions producing exceptional wines. Along the coast, lovely harbor views might be the perfect backdrop for a life celebration. The Olympic Peninsula's wild beauty and the imposing Mount Rainier National Park are also beautiful.
Inspiring Ideas for Memorials
Destination memorials are just one idea for honoring your loved one. Here are other inspiring ideas from Tulip:
How to Plan a Warm Weather Outdoor Memorial Service
Celebration of Life: 9 Ideas for a Memorable Service
How Different Religions Honor Their Loved Ones