How to Plan a Warm Weather Outdoor Memorial Service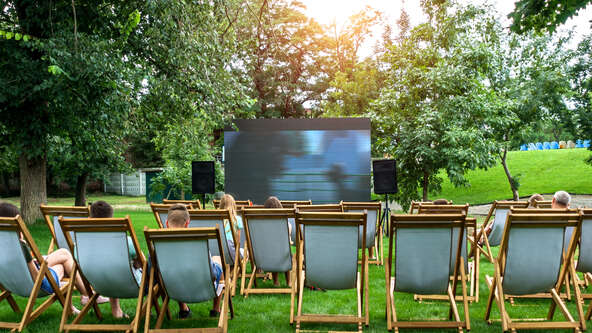 Did your loved one enjoy sunny days or summer sunsets? You can honor their lives with a warm-weather memorial service at the shore, a park, or another special place. Keep reading for simple ways to plan an outdoor service.
You don't have to plan an indoor memorial service when the weather is nice. Some families host an outdoor memorial because they feel more spiritual in a natural setting. Others plan an exterior event because it's perfect for both large and smaller gatherings. Whatever your reason, Tulip has tips on creating a simple sunny life celebration.
Provide Shade and Protection
A summer life celebration means warmer temperatures. If your location doesn't offer protection (such as a pavilion), rent a tent for shade, privacy, and protection from bright sunlight and rain. You'll need seating, too. You can ask people to bring folding or camp chairs if it's a small gathering. For larger groups, or if you prefer to take care of the details yourself, you can rent chairs, often at the same place where you rent a tent.
Bring Plenty of Coolers
Sunny days and warm temperatures mean guests need extra hydration. How much water will you need? You should expect to serve one to three cups of water per guest and three to five cups of non-alcoholic drinks (tea, lemonade, and soda) over several hours.
If the revenue allows you to bring alcohol (and you want to serve it), have enough beer, wine, or cocktails to serve two drinks per adult for the first two hours and one drink per person each hour after.
While you are welcome to serve alcohol, remember that wine, beer, and liquor affect your body's ability to regulate temperature in warm weather. Drinking only alcoholic beverages when it is hot outside makes you more vulnerable to heat illness.
Use Separate Coolers for Food That Has to Stay Cold
Use separate coolers for food that must be kept cold since constant opening and closing exposes perishable foods to unsafe temperatures. Use freezer packs or ice to keep food at 40 degrees or colder. If you're grilling meat, poultry, or seafood, wrap raw protein separately from prepared food, fruits, and vegetables to prevent cross-contamination.
You want your loved one to be the focus of the memorial. Serve simple foods that require little attention other than keeping them cool. Here are ten food ideas for warm-weather gatherings:
Fresh vegetables or salads dressed in oil and vinegar (no mayonnaise)
Charcuterie boards
Dried fruits and nuts
Chips and salsa
Fruit bars
Mini bags of popcorn, pretzels, or trail mix
Fresh fruit, especially watermelon, cantaloupe, or honeydew melon
Quinoa salads
Mini cucumber and tomato sandwiches
Pasta salads
Keep Memorial Displays Simple
Space is often limited underneath a tent or canopy, so consider one large display on an easel with a picture or photo collage of your loved one. You can use a small table (or a corner of a picnic table) for a guestbook and memorial items.
If you know you can access power, you could set up a laptop or tablet with a memorial video. You can also play music from your mobile device using Bluetooth speakers. If you're unsure about available power sources, bring plenty of batteries.
Looking for the perfect soundtrack for your outdoor memorial? Discover "Best Songs for Funerals"
If your event is near the beach or extends into twilight, use citronella candles in simple hurricane glass globes for the memorial display. They'll lend a soft glow and help keep annoying mosquitoes away.
Stay Simple on Serving
Use disposable plates, cups, and flatware unless you're prepared to bring dirty dishes home to wash. Serve soft drinks in cans and bottled water; you might not even need paper or plastic cups. Offer stickers that guests can put on the outside to label their drinks and reduce waste.
Bring plenty of plastic garbage bags for recycling and trash.
Other Essential Items
If your location is at the beach or another site with an uneven walking surface, consider the needs of your guests with mobility challenges. You can rent a lightweight aluminum wheelchair ramp.
Here are some other items to ensure your memorial is safe and enjoyable while you celebrate someone special:
Portable, battery-powered fans
Bug spray
Sunscreen
Hand wipes or hand sanitizer
First-aid kit
When to Hold a Celebration of Life After Cremation
You can hold a celebration of life whenever and wherever it is convenient and feels suitable for you and your family. Your memorial can occur before or after the cremation, depending on whether you want your loved one's cremated remains to be displayed in an urn or you plan to scatter them during the memorial.
Tulip Cremation offers the most straightforward and transparent cremation services available. You make arrangements in the comfort and privacy of your home, by phone, or online with help from a Tulip care team member. You can even select a beautiful cremation urn or scattering tube from our online memorial store.
To learn more about Tulip's five-star affordable service, click here or call (844) 942-4909. Our care team is here for you 24/7.