Best Songs for Funerals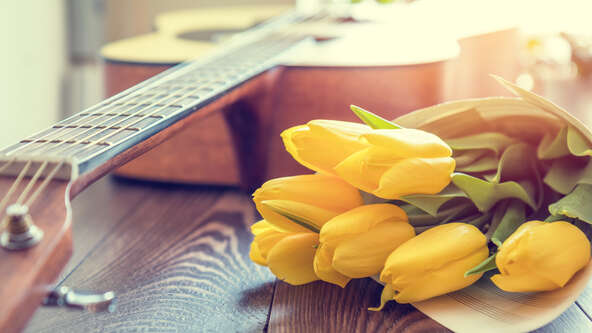 Adding music to your loved one's memorial is a personal and beautiful way to honor them. Keep reading to learn about incorporating funeral songs into a funeral or life celebration — selecting music, when to play, and how to share with guests.
Music is deeply connected to memories and emotions for many of us. And if the music at your loved one's funeral makes you cry (and it likely will), that emotional release is an essential first step toward acceptance of your loss.


Choosing Funeral Songs
Some people include the songs they want to have played at their funeral in their prearrangements or other end-of-life plans. You'll likely pick from your loved one's favorite songs, artists, or musical genres. If you aren't sure, browse their digital playlist, CDs, or vinyl record collection. We've also compiled a list of the most popular funeral songs below.
Popular Songs for Funerals
Thanks to Spotify, Pandora, iTunes, Apple Music, and other music streaming services, there are more potential funeral songs to choose from than you have to listen to. Here are 30 popular contemporary, gospel, and country tunes people play at memorials. (and click the links to find the Spotify playlists)
Ten Popular Contemporary Funeral Songs:
Time To Say Goodbye (Andrea Bocelli, Sarah Brightman)
Over The Rainbow (Eva Cassidy)
Lay Me Down (Sam Smith)
How Long Will I Love You (Ellie Goulding)
My Heart Will Go On (Celine Dion)
Wind Beneath My Wings (Bette Midler)
Supermarket Flowers (Ed Sheeran)
Hero (Mariah Carey)
My Way (Frank Sinatra)
You Raise Me Up (Josh Groban)
Ten Popular Country Funeral Songs:
Broken Halos (Chris Stapleton)
When I'm Gone (Joey + Rory)
Please Remember Me (Tim McGraw)
If I Had Only Known (Reba McEntire)
The Dance (Garth Brooks)
How Do I Live Without You (LeeAnn Rimes)
Hurt (Johnny Cash)
Bless the Broken Road (Rascal Flatts)
Don't Blink (Kenny Chesney)
I Hope You Dance (Lee Ann Womack)
Ten Popular Gospel Funeral Songs:
Amazing Grace (Judy Collins)
Swing Low, Sweet Chariot (Eric Clapton)
Holy, Holy, Holy (Crystal Lewis)
I Can Only Imagine (MercyMe)
Abide With Me (King's College Choir)
Trouble of the World (Mahalia Jackson)
Wholy Holy (Marvin Gaye)
What A Day That Will Be (Southern Raised)
Stand (Donnie McClurkin)
My Soul Is Anchored (Douglas Miller)


Live Music
As a dedication to your loved one, a family member or friend might sing or play an instrument during a funeral. A live musical performance is a moving alternative to a speech or eulogy.
However, a live musical performance from someone who is also mourning could be too stressful. Consider hiring professional musicians in your community. You can check with a professional orchestra, community theater, or music department at a nearby college.


When To Play Funeral Music
Funeral songs should enhance a memorial, whether played as background music or as a focal point in the service.
There are many opportunities to incorporate music into your loved one's memorial; as guests arrive; as part of the service; during reflective moments; during the reception; or in a tribute video or slideshow that plays on a loop. You can have a walking musician at outdoor memorials.
Funeral homes, banquet facilities, community centers, restaurants, and houses of worship have sound systems to play music during a service.
Tips for Keeping the Music Playing
If you're using the venue's Wi-Fi, enter and save the password. Check audio equipment, including microphones and speakers. Bring power adaptors, so you don't risk losing battery power. Assign someone to monitor audio levels. You don't want music playing so loudly that it drowns out conversation or so softly that guests can't hear it.
Special Funeral Songs
Another memorial service idea is playing songs with special meaning or connection. Look for meaningful songs based on your loved one's religion, ethnicity, culture, or country of origin.
Many veterans are entitled to an honor guard at their funeral or life celebration, including playing "Taps." As a certified Veterans Funeral Specialist (VFS), a Tulip care team member can help veterans and their families understand the VA funeral benefits they might be entitled to receive.
Click here to learn more about veterans' funeral benefits
Music Brings Us Closer
Music stirs up long-forgotten memories and shared experiences. It offers comfort and connection that can't always be expressed through words. Funerals that include beloved songs from happier times or hymns that promise eternal love are vital to the grieving process.