LGBTQ+ Funeral Planning Guide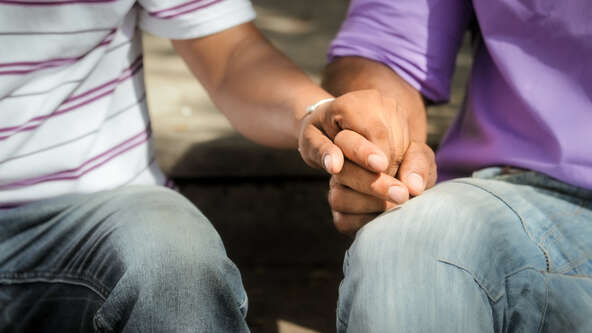 Is funeral planning different when your partner is not your spouse? What should LGBTQ+ families consider when making funeral arrangements? This is Part One of Tulip's preplanning funeral guide for unmarried couples and lesbian, gay, bisexual, trans, and queer families. Keep reading to learn more.
Without question, the person who should make your end-of-life arrangements is you. If you have not expressed your final wishes in a will, advanced directive, or another legal document, that decision falls to a relative or loved one.
However, only some family members might honor and respect your self-identity, relationships, and beliefs. You should also know that domestic partners may or may not have the same authority as a blood relative.
All the more reason why everyone, regardless of identity, orientation, or marital status, needs to put their final wishes in writing to eliminate questions or confusion.
Next of Kin and Funeral Arrangements
Without preplanning, funeral arrangements fall to the "Next of Kin," typically the closest living blood relative, spouse, domestic partner, or adopted family members. But what happens when a domestic partner disagrees with the deceased's parent or sibling? It's easy to see that the Next of Kin designation can become a complicated and heated matter, with two or more parties arguing over what they believe you would have wanted.
For LGBTQ+ families, there can be even more complex legal and personal issues. By proactively making funeral arrangements, LGBTQ+ families can establish their legal rights and protect their wishes from being disregarded or overridden by others who may not respect their relationships.
'I Want To Be Heard'
Tomi is a 67-year-old trans person in Tampa. They (Tomi's preferred pronoun) have specific wishes regarding their end-of-life arrangements, including which burial dress, shoes, and preferred makeup should be used for viewing and burial. Their partner is Tomi's power of attorney for healthcare decisions, financial matters, and carrying out their funeral plan.
Tomi says, "I don't want to think about being dead, but I also do not want my partner to put up with the same nonsense and disrespect we had at our wedding. I want to be heard, even when I'm not here. That's why I took the plunge and made funeral plans."
From selecting the type of memorial service you want to the gender marker on your death certificate, preplanning gives same-sex couples and LGBTQ+ individuals control of their end-of-life plans.
Get started with a free, instant quote
Answer a few brief questions below and receive an instant quote for your direct cremation needs.
Create the Legacy You Desire
LGBTQ+ individuals often rely heavily on their chosen families and support networks, which may consist of friends, partners, or non-biological relatives who have been instrumental in their lives. Making preplanned funeral arrangements allows LGBTQ+ individuals to involve their chosen families and ensure they are included in decision-making. This helps to create a supportive environment that respects their relationships and honors their connections, both in life and after death.
Legal Protection for LGBTQ+ Families
Funeral arrangements involve various legal aspects, such as the handling of remains, obtaining death certificates, and making decisions about burial or cremation. In some jurisdictions, the legal rights and recognition of LGBTQ+ individuals and their families might still be limited or subject to discrimination.
Funeral arrangements can often be complex and emotionally charged, particularly when multiple family members are involved. LGBTQ+ individuals may face unique challenges related to family dynamics, such as conflicts with estranged or unsupportive relatives who may not acknowledge or respect their relationships. By making funeral arrangements, LGBTQ+ individuals and their chosen families can ensure their wishes are followed.
Recognition with Dignity
LGBTQ+ individuals deserve to have their identities, relationships, and experiences acknowledged and respected even after death. Making funeral arrangements in advance protects their wishes regarding memorial services, pronouns, headstones, and other specific requests.
Funeral arrangements also play a significant role in grieving and preserving a person's memory. For LGBTQ+ individuals, making their funeral arrangements can establish a meaningful legacy that accurately represents their lives, relationships, and achievements. It can provide a sense of closure for their loved ones, allowing them to mourn and remember their LGBTQ+ family member in a way that aligns with their wishes and values.
Coming Soon: Part 2 of LGBTQ+ Funeral Planning
Get resources about changing gender markers on death certificates.
Learn more about LGBTQ+ representation in funeral planning.
Discover a network of support for LGBTQ+ families and couples who are struggling with grief and loss.
Our Promise to Every Family We Serve
Tulip Cremation has zero tolerance for discrimination, harassment, bullying, and violence against our families and employees based on race, ethnicity, gender, self-identity, age, sexual orientation, religion, income, marital status, and cultural identity.
Click here to learn more about Tulip's simple and affordable preplanned arrangements.