LGBTQ+ Funeral Planning Guide Part 2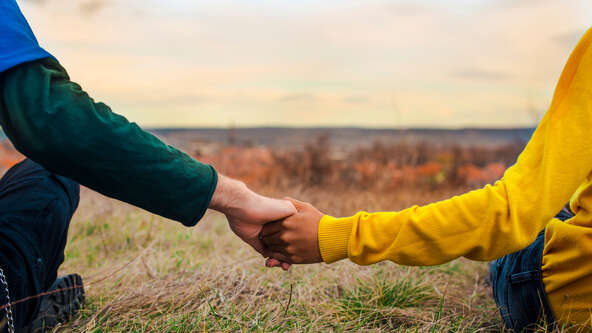 Is funeral planning different when your partner is not your spouse? What should LGBTQ+ families consider when making funeral arrangements? Keep reading for part two of Tulip's preplanning funeral guide for unmarried couples and lesbian, gay, bisexual, trans, and queer families.
Preplanning can alleviate some of the stress of a very emotional time and ensure your wishes are respected. These conversations must occur in an environment of understanding, respect, and love.
Planning Ahead for LGBTQ+ Families
The unique needs of LGBTQ+ families and individuals often stem from societal attitudes, legal regulations, and personal identity issues, among others. You should know that domestic partners may or may not have the same authority as a blood relative. Some family members might only respect your relationships and personal preferences with your specific wishes in writing.
All the more reason why everyone, regardless of identity, orientation, or marital status, needs to put their final wishes in writing to eliminate questions or confusion.
Recognition
LGBTQ+ families deserve to be acknowledged and validated for who they are. Funeral homes and other death care providers should strive to create a safe and inclusive environment where their unique identities and relationships are recognized and respected.
Relationships
Recognizing same-sex spouses, non-binary or transgender partners, and non-traditional family structures shows respect for you and your loved ones. For instance, chosen family members—people who are not biologically related but have significant relationships with the deceased—should be recognized and included in the planning and proceedings.
Cultural Sensitivity
Incorporating cultural and symbolic elements that honor the deceased's LGBTQ+ identity can be significant. This could include specific readings, music, or other rituals that reflect an individual's identity and community.
Gender Identity
The laws and processes for changing gender markers on legal documents vary widely depending on jurisdiction. Some regions may require evidence of medical transition, while others require only a simple declaration.
Click here to read Part 1 of LGBTQ+ Funeral Planning
Changing Gender on Documents and Headstones
A recent law in New York State permits non-binary individuals to use "X" as a gender marker on birth, marriage, and death certificates. However, not all states and territories are as accommodating to trans and non-binary people.
Individuals who want to use a different name or gender marker on their death certificates must update their birth certificates and other legal documents. Here are a few resources that can help:


Gender on Headstones and Plaques
You may choose the gender marker on a headstone or plaque that reflects your identity, even without legal documents. If your loved one passed without making their wishes known, use the chosen name and pronouns they used in life. Ensure that the cemetery, cremation garden, or columbarium will not try to thwart your desired headstone's name or gender marker.
Get started with a free, instant quote
Answer a few brief questions below and receive an instant quote for your direct cremation needs.
Checklist for LGBTQ+ Preplanning
Making preplanned funeral arrangements is an essential component of end-of-life planning.
Here is a checklist to get you started.
Legal Documents to Protect Your Estate and Loved Ones
Create a will: Draft a legally valid will to ensure your assets and belongings are distributed according to your wishes.
Establish guardianship: If you have children, designate a legal guardian to care for them.
Power of attorney: Choose someone you trust to make medical and financial decisions on your behalf if you become incapacitated.
Domestic partnership or cohabitation agreement: Same-sex marriage is now legally recognized nationwide in the US. If you choose not to marry, create a legal agreement that outlines the rights and responsibilities of each partner.
Advance healthcare directive: Prepare a living will or advance healthcare directive to outline your medical treatment and end-of-life care preferences.
Designate a healthcare proxy: Identify your partner, spouse, or someone you trust to make healthcare decisions should you become incapacitated.
Appoint an executor: Appoint an executor to manage your estate and fulfill your final wishes.
Preplan your funeral: Secure your prepaid cremation or other funeral arrangements in a safe place.
Financial Considerations
Life insurance: Consider investing in policies to support your partner and dependents after death.
Joint bank accounts and assets: Ensure common ownership of funds and assets to facilitate seamless transfer of ownership.
Beneficiary designations: Review and update beneficiary designations on retirement accounts, insurance policies, and other financial assets to reflect your wishes accurately.
Conversation Starters
Looking for a way to start the conversation about planning ahead? Here are a few suggestions or inspiration for your own words:
"How do you envision your final celebration of life? Are there specific elements that reflect your LGBTQ+ identity you would like to include?"
"Do you have any concerns about how our family will be recognized and treated in the process?"
"Have you thought about your headstone? Is there a specific name or gender marker you would like to be used?"
"What's your preference for your obituary? Do you want it to include references to your LGBTQ+ identity?"
"Are there specific friends or chosen family members you want to be involved in the planning or service?"


Grief and Support Resources
People are vulnerable after losing a loved one and need comfort and support. Here is a list of some of the organizations that offer LGBTQ+ bereavement care:
You can also contact your hospice provider and local LGBTQ+ service organizations.
Our Promise to Every Family We Serve
Tulip Cremation has zero tolerance for discrimination, harassment, bullying, and violence against our families and employees based on race, ethnicity, gender, self-identity, age, sexual orientation, religion, income, marital status, and cultural identity.
Questions about our simple, affordable direct cremation? Call (844) 942-4909 to speak to a care team member 24/7/365.
Click here to learn more about Tulip's simple and affordable preplanned arrangements.