What is a Death Certificate?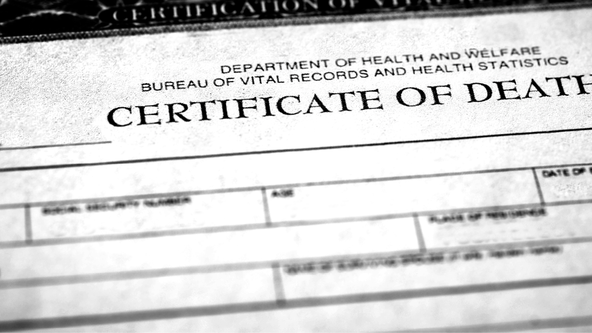 What is a Death Certificate?
A death certificate is an official document proving an individual's passing. These documents may be important in the occasion you need to close your loved one's accounts or access benefits. Once your loved one's death is registered, their death certificate can be ordered as needed. Depending on your county, the certificate can take anywhere from 2 to 4 weeks to be mailed to you.
Death Certificate vs. Death Registration
When your loved one passes, an official authority, typically a physician or coroner, is required to validate their cause of death and identity. This individual registers your loved one's death with the county and state, officially declaring their death. (with Tulip's direct cremation package, once your loved one's body is carefully taken in with us, a doctor will register their death before proceeding with the cremation).
After their death is registered, you can order your loved one's death certificate. This certificate is needed to close their accounts or access benefits. Depending on what you need to do, an official copy may be required (rather than a photocopy). You will need to contact each organization requesting a death certificate individually to figure out their specific needs.
Why You Need a Death Certificate
Death certificates are necessary for a variety of personal reasons. To help settle certain accounts for your loved one, claim assets and benefits, or remarry. Below is a list of just a few things you can do with a death certificate:
Claiming Insurance
Pensions
Settling assets
Medicaid benefits
Future marriages
Closing accounts
Arranging the funeral service
Who Can Get a Death Certificate?
Depending on which state you live in, different individuals may have the authority to request a certified, authorized death certificate.
In the United States, for the most part, death certificates are considered public domain documents. Anyone, with any relation to the individual, may request an informational copy of a death certificate. However, to receive an authorized copy (which may be used for legal purposes as stated above) you need to order a death certificate from a specific source.
How to Order a Death Certificate
You can order a death certificate from:
The funeral home you are using
A third-party tool, such as VitalChek
The state or country in which the person passed away
After requesting a death certificate, it may take 3-4 weeks for the certificate to be sent to you after your loved one's passing. The delay period is usually due to the necessity for a physician to properly determine your loved one's cause of death and submitting the conclusion. Be aware that when requesting copies of your loved one's death certificate, you may be required to pay a small fee for multiple copies. At Tulip Cremation, we are committed to offering you transparent prices, and this service is included with no extra cost.
If you are looking for a simple, transparent funeral service for your loved one or yourself, Tulip Cremation's direct cremation package may be right for you. If you are ready, our Family Care Team is available 24/7 at (844) 942-4909 or arrange online today.
Photo by Helloquence on Unsplash