Average Funeral Cost in San Francisco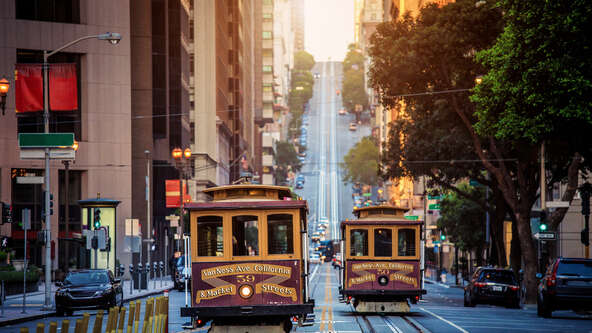 Average Funeral Cost in San Francisco
Funeral costs have climbed dramatically over recent years. According to the Bureau of Labor Statistics, funeral prices have grown nearly twice as fast as consumer prices for all items in the last three decades.
Outside of these macro trends, what does this growth mean for the actual funeral prices where we live?
We gathered data using the General Price Lists (GPL) from the major funeral homes in San Francisco in order to capture a view of the costs and expenses of local funerals. Based on the GPL of funeral homes within city limits, the average funeral cost in San Francisco is $11,272.
When we look at outliers in the data, high-end San Francisco funeral services can run well over $20,000. The lowest average funeral cost in San Francisco prices around $3,495.
One interesting finding during this process was the staggering number of options available for funeral services in San Francisco. Every San Francisco funeral home offers a massive list of services that leads for a fairly confusing collection of potential choices, which also makes it very difficult to understand what the total, fair cost would be for the funeral service. In order to provide more insight into these costs and fees, we look at some of the major elements of the average funeral cost numbers.
Casket Prices
The single most expensive cost of a funeral in San Francisco is the casket, which on average, accounts for as much as 70% of the total funeral cost.
The average price of a casket in San Francisco is $7,847, depending on the style of casket and funeral home offerings. Caskets run as high as $15,000 and as low as $695.
With a cremation and no casket, the average cost of San Francisco funerals drops into the low $3,495 range. When applicable to the service, urns and alternate containers cost less than a few hundred dollars.
Body Preparation Expenses
The best deals we could find in San Francisco came from packaging funeral services together. Each San Francisco funeral home offered "funeral packages" that combined a la carte pricing into a single cost. You can still itemize every single piece of the funeral service, but this leads to much higher costs, even when removing extra services.
Some of the most expensive aspects of the average funeral costs involved dealing with preparation of the body. These preparation fees could run into thousands of dollars in expenses, with the biggest single charges around embalming. Other body care elements that contributed to these costs included bathing and dressing, along with the transferring and moving the remains.
Funeral Home Service Costs
Another major percentage of funeral cost was the use of funeral home services — including staff and facilities. Almost all San Francisco funeral homes required a customary "service charge" for every service. The explanations for these charges revolved around the general use of the funeral staff and facilities, basically an entrance fee to working with the funeral home. These entry costs could go as high as $1,800 and as low as $400, and this was before you even began racking up actual burial costs.
Other major costs of the service section depend on the type of funeral and needs. The number of visitation days could run thousands of dollars a day. Graveside services or use of the chapel (if available) would tack on additional, non-trivial fees.
Some additional pricing that crept into our findings were the use of the funeral director to process the paperwork. We saw prices as high as $1,600 for these paperwork and process fees.
GPL and Paying for Funeral Services
A note about our use of General Price List (GPL) and making the right funeral purchasing decisions.
The GPL was launched from the FTC Funeral Rule, which was created to help consumers choose only the services they wanted for a funeral, and allows anyone to compare prices among funeral homes. The FTC created this rule to protect consumers from predatory practices of funeral homes.
It's important to understand the full set of funeral services available, but not to be overwhelmed or pressured by these massive price lists. To get the most affordable funeral in San Francisco, the bundled packages certainly seem to provide the best deals, but they are still expensive. The best way to get a service under the San Francisco average funeral cost is to not use a casket. Simple cremation services and celebration of life ceremonies can also be useful alternatives if you are feeling the pressure behind these funeral expenses.
Data Sources: San Francisco Pricing Guide References
https://s3.amazonaws.com/CFSV2/fileuploads/3065/DFSGeneralPriceListApril12020.pdf

https://interment.com/wp-content/uploads/2019/11/Brochure04062018.pdf

https://www.driscollsmortuary.com/files/2315/3400/8379/Driscoll_GPL_8-10-18_for_WEB.pdf

https://www.sullivansfuneralandcremation.com/Content/Media/DuggansSerraMortuary/SULLIVAN_DSM_GPL_July2018.pdf
Photo by adrianna geo on Unsplash

Get started with a free, instant quote
Answer a few brief questions below and receive an instant quote for your direct cremation needs.