What Funeral Benefits are Available to Veteran Families?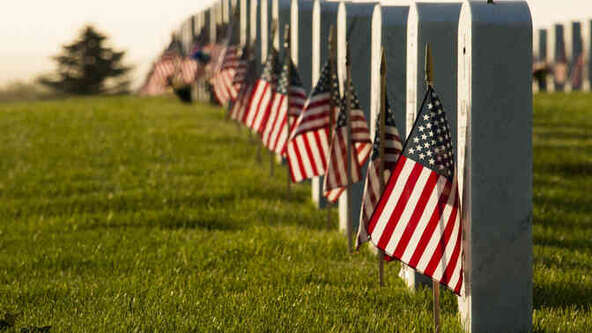 You are likely eligible for certain funeral benefits if you or your loved one is a veteran. The government provides these benefits for veterans and their family members to help defray the cost of funeral services to thank them for their service to their country.
If you qualify for assistance, you may be able to apply for burial in a national veterans cemetery, receive a burial allowance in a private cemetery, or receive military honors and memorial items. Below are answers to some of the most commonly asked questions from families applying for veterans benefits.
Am I eligible for veterans services?
When applying to receive a veteran's service with full honors, you may qualify if you answer yes to any of the following questions:
Are you a military professional in the selected reserve or currently on active duty?
Have you or your loved one served on active duty and departed from the service on conditions not classified as dishonorable?
Were you or your loved one a military professional who was discharged from the Selected Reserve because of a disability that was aggravated or occurred on duty?
Were you or your loved one enlisted for at least one term or another period of time in the Selected Reserve and chose to depart under conditions that were not classified as dishonorable?
What are some of the benefits available to veterans and their family members?
If you or your loved one meet the eligibility requirements for veterans benefits, you may receive the following:
VA burial allowance for burial and funeral costs
VA plot or interment allowance for the cost of the gravesite or interment
VA transportation reimbursement for the cost of transporting the veteran's remains to the final resting place
How do you arrange to be buried in a veterans cemetery?
To be buried in a VA national cemetery or a local veterans cemetery in your state, you typically must be:
A veteran of the armed forces
A service member who died while on active duty
A veteran's spouse
A veteran's minor child
How do I make arrangements if my family does qualify for assistance?
If you qualify for veterans benefits, contact your local provider and let them know. At Tulip, we are a certified Veterans Funeral Specialist provider. We help keep you on track to receive all the benefits you are entitled to. Our care team can assist you with the following:
Complete all necessary applications for military professionals and veterans' benefits, which may include applications for the Presidential Memorial Certificate, Military Honors, and a veteran headstone or memorial marker.
Complete the documentation your family must provide at death to request all honors for your loved one.
Coordinate space at a national or state veterans' cemetery if applicable.
Confirm any pre-paid funding benefits to help pay for any expenses deemed ineligible by the Veterans Administration.