Scattering Ashes in the San Francisco Bay Area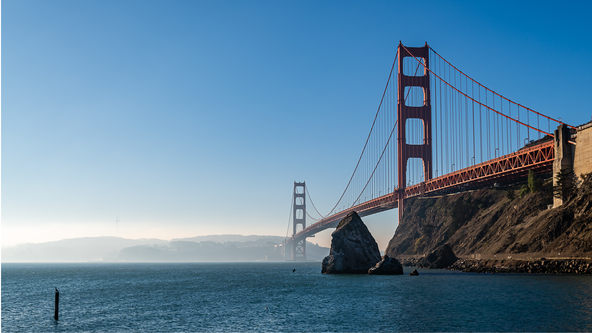 Scattering ashes in the San Francisco Bay Area
The act of scattering ashes can have great meaning both for your departed loved one (if they chose this memorial method before passing) and for you. If you are looking for a meaningful place to scatter your loved one's ashes, the San Francisco Bay Area has many spots to choose from.
This post will give you some ideas for where you'll be scattering ashes, and also outline what steps you'll need to take in order to ensure your memorial proceeds as smoothly as possible.
How to scatter ashes in the San Francisco Bay Area
Scattering ashes is legal as long as you get written permission from the individual or authorities overseeing the land you wish to use for your memorial. Most national parks allow it, provided you acquire the appropriate permit. However, states also have their own sets of guidelines for where, and how, you can scatter ashes.
California's Cemetery and Funeral Bureau's booklet on scattering ashes provides detailed information regarding state laws and regulations. For the general public, California law allows for ashes to be cast:
In scattering gardens, which some cemeteries provide for scattering ashes. This must be arranged ahead of time with the owners of the cemetery.
On any public or private land, provided you obtain written permission from the owners first. You must also remove the ashes from their container and scatter them in a secluded area.
At sea (or any inland navigable waters, not including lakes and streams), provided you follow the EPA's guidelines, which state that the ceremony must take place a minimum of three nautical miles from land. Flowers and wreaths may be cast as well, provided they are biodegradable. The EPA should be notified within 30 days after your ceremony. You can charter a private boat in the Bay area for around $300 to $450 per service.
By air (via airplane), provided the ashes are removed from their container before scattering. Prices vary by distance traveled and the number of people aboard the plane, but you can find local services in the Bay Area averaging around $350 per flight.
Where to scatter ashes in the San Francisco Bay Area
Now that you have a better idea of how to arrange a scattering memorial, it's time to think about where to hold the ceremony. These locations in the San Francisco Bay Area are open to the public and permit ash scattering, though some have their own guidelines beyond those set by the state.
San Francisco Bay
The Bay itself is a preferred spot for ash scattering memorials and offers a beautiful view of the Golden Gate Bridge. Many of the local islands and coastal towns offer marine memorial services that cater specifically to ash scattering in the Bay, such as:
Angel Island State Park, which offers a 360-degree view of both the San Francisco skyline and the Bay
Alcatraz Island, which is rich in natural beauty and has become a sanctuary for a wide variety of seabirds
Half Moon Bay, a historical area with a variety of convenient lodging options for friends and family staying overnight, including the Pigeon Point and Montara Lighthouses
While you cannot scatter ashes directly from the Golden Gate Bridge, you may hold an aerial ash scattering over the bridge or hire a boat that will allow you to memorialize your loved one in the Bay and within view of the bridge.
Bolinas Bay
For a quiet, more remote alternative to the San Francisco Bay, there's Bolinas Bay on the Pacific coast. The town of Bolinas is small, but it also provides a serene and secluded view of the Pacific Ocean if you want to hold a private ash scattering memorial.
Few charters depart directly from Bolinas Bay—most depart from San Francisco Bay or other nearby, more populous locales—but scattering at sea and by air are permitted here.
Marin Headlands State Park
Located a short distance northwest of the Golden Gate Bridge, Marin Headlands State Park is a natural refuge with unobscured views of both the Bay and the Pacific Ocean. According to National Park Service regulations for this area, scattering ashes must take place no less than 10 yards away from highly trafficked areas such as trails, roads, or park facilities. The minimum altitude for scattering from the air is 2,000 feet above the ground. A memorial at sea is permitted, provided the standard regulations are followed.
Mount Tamalpais State Park
Scattering ashes on the park grounds is permitted in Mount Tamalpais State Park, as long as permission is granted by the California Department of Parks and Recreation. Alternatively, scattering by airplane provides an aerial view of both Mount Tamalpais itself as well as the landscape surrounding it, which includes San Francisco Bay, the Farallon Islands, the Marin County hills, and nearby Mount Diablo State Park.
Scattering ashes in San Francisco Bay
If you're not sure yet where you'd like the ceremony to take place, take time to consider your options. The San Francisco Bay locations listed above are just a few of our suggestions. Wherever and however you choose to scatter your loved one's ashes, make sure to always contact the appropriate authorities and fill out all the necessary paperwork prior to the ceremony.
Of course, before scattering your loved one's ashes, you'll need to make arrangements for cremation. Direct cremation is the simplest and most cost-effective option: it is a straightforward, affordable process that leaves you free to arrange your own private, personal scattering ceremony.
Tulip Cremation provides an affordable direct cremation service to California. Our Family Care team is available by phone and online 24/7 and will work with you to arrange the transportation and cremation of your loved one. We'll take care of registering the death and obtaining the death certificate for you and can deliver your loved one's ashes by mail or by hand-delivery to any address in the U.S.
Losing a loved one is hard—but knowing what to do next shouldn't have to be. Call us whenever you need us, and we'll help guide you through the next steps.
Tulip Cremation provides a cost-effective direct cremation service for a transparent, low upfront cost and no hidden fees. The ashes are returned to you in a simple container and can be shipped to any US postal address. Call our Family Care Team at (844) 942-4909 to learn more or arrange online.
Lead image courtesy Unsplash