Ideas for a Burial at Sea Ceremony in San Francisco, CA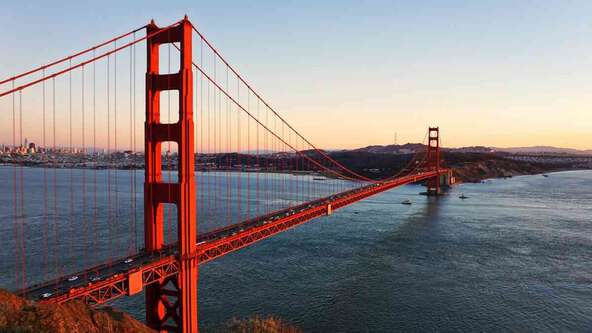 Ideas for a burial at sea ceremony in San Francisco, CA
Burial at sea ceremonies have been in practice for as long as there have been seaworthy vessels from which to conduct them. From Sir Francis Drake's memorial at sea in 1596 to Robin Williams's 2014 ash scattering ceremony in San Francisco Bay, it's a tradition that has brought comfort and closure to bereaved families from all walks of life for centuries.
And of course, in the Bay Area there's no shortage of potential locations for your marine memorial service, including the Bay itself as well as various spots along the Pacific coast. But how do you go about arranging a burial at sea in California? What rules and regulations need to be followed, and what ideas will work best for your family's needs and budget?
Guidelines for a burial at sea in the Bay Area
When arranging a burial at sea, be sure to refer to the national guidelines established by the Environmental Protection Agency (EPA). Burials at sea are allowed under a general permit that requires no special application provided the following rules are adhered to:
Any type of burial at sea must take place at least three nautical miles from shore.
For non-cremated remains, the ceremony must take place in waters at least 600 feet deep. Cremated remains may be scattered in waters of any depth.
All materials released into or over the water must be readily biodegradable.
The ceremony must be reported to the EPA within 30 days of its taking place.
Ultimately, however, the EPA leaves governance up to each individual state. Therefore, as dictated by California law, ceremonies may also take place in navigable rivers and inland waterways (including the Bay itself) as long as they take place at least 500 yards from shore.
Ideas for arranging a burial at sea in San Francisco
Whether you'll be scattering ashes in San Francisco Bay or heading out to sea for your loved one's memorial service, there are a few things you'll need to consider when making the arrangements.
Attended vs. unattended services
An unattended burial at sea involves passing your loved one's remains to the staff to take to sea while you and your family remain on land. This is usually more cost effective than the alternative, and can be a good solution for tight budgets or cases where family members may not be able to travel to San Francisco. An attended service, on the other hand, allows family members to participate in the burial at sea in person and conduct the rest of the memorial service on the vessel itself. Unattended services may be available in the Bay area for as little as $150, and some direct cremation providers, like Tulip Cremation, offer this service for free. Attended services typically start around $300, with the total cost largely depending on the number of passengers in attendance.
Type of burial
For non-cremated remains, you may choose to bury your loved one at sea either in an EPA-compliant casket or wrapped in a shroud, sail, or other type of cloth. For cremated remains, you may choose to scatter your loved one's ashes by hand or release them into the water within a biodegradable container. Most memorial charters can accommodate both, but take care to check their guidelines before hiring to be sure.
Potential locations
For a burial at sea in the San Francisco area, there are several ideal potential locations to choose from.
San Francisco Bay, within view of both the Golden Gate Bridge and the SF skyline
Bolinas Bay and Half Moon Bay, which offer quieter, more remote alternatives to San Francisco Bay
Along the Pacific Coast, departing from any number of marinas along the coastline
Ceremony ideas
The details of the ceremony itself will depend on the preferences of you and your family and, of course, any special rules or guidelines the boat you charter may ask you to follow. The following suggestions comply with both California law and EPA standards.
Create a theme for the ceremony. Particularly if your service will not be a religious one, a theme can be a great way to add an even more personal touch to the proceedings. The things your loved one cared for the most in life often offer excellent inspiration for how to celebrate their memory after they've passed on.
Choose flowers or memorial objects with special significance. Though lilies may be traditional, you may choose to include your loved one's favorite flowers instead if you find it more meaningful. Other personal objects, such as photos or paper keepsakes, may also be released into the water during the ceremony, as long as they are biodegradable and do not contain any chemicals that could be harmful to marine life.
Create mementos together before the ceremony. For some families, it may be comforting to spend time together prior to the memorial service creating memorial objects such as wreaths, bouquets, or paper cranes or boats to release in honor of their loved one's memory. Writing notes or letters to your dearly departed loved one to be released during the ceremony may also bring a sense of peace.
Include prayers, poems, prose, or songs that speak to your loved one's beliefs and interests. "Alone I Will Not Be" by Captain Chad Theesfeld is a traditional choice, but feel free to include readings from any religious texts that reflect your family's faith or literature that may have held a special place in your loved one's heart.
Preparing for burial at sea: choosing a cremation provider
While a burial at sea does not have to involve cremation, many choose it because it makes for a simpler, easier planning process and ceremony. In most cases, it's preferable to arrange a direct cremation and a burial at sea ceremony separately, rather than arranging both through a traditional funeral home.
Not only is direct cremation more affordable, it also leaves you free to arrange your loved one's memorial service on a schedule that's right for you and your family, rather than being restricted to the rapid timetable most funeral homes operate on. You should be able to relax knowing your loved one is in good hands while you focus on the next step—planning the burial at sea ceremony they deserve.
Tulip Cremation offers a simple and dignified direct cremation service for a low, upfront cost. Our Family Care Team is available 24/7 if you need to talk. Just call (844) 942-4909—or, if you prefer, you can arrange online any time, day or night.