Biodegradable Urns and Environmentally-Friendly Cremation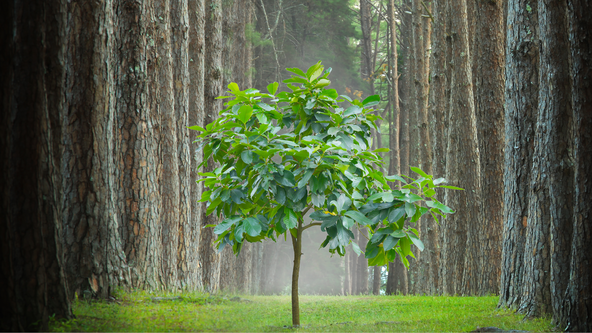 Biodegradable Urns and Environmentally-Friendly Cremation
When deciding how to best celebrate your loved one's passing or even planning ahead for you own, one of your considerations may be environmental impact. To understand potential impact, it's important to understand the environmental benefits and shortcomings of different funeral services.
What are some environmentally-friendly ways to celebrate your loved one after cremation?
Use a biodegradable urn
A biodegradable urn or "bio urn" is an urn made of environmentally-friendly materials, specifically materials that will dissolve or decompose into the earth. Some materials that are biodegradable include recycled paper, sand, clay, rock salt, bamboo, or cornstarch. Environmentally-friendly urns can be just one way to honor your loved one.
Turn your loved one's ashes into a tree
While the ashes themselves are not necessarily beneficial for plant growth (cremation remains have a high pH level), several companies have developed products that safely combine your loved one's ashes with particular neutralizing agents─ allowing their ashes to be combined into the material to foster a seed or seedling. This process typically happens within a bio urn product, although there are options to purchase the agent separate from the urn.
A plant-growing urn typically includes a biodegradable urn, the additives to support plant growth, and a tree seed of your choosing. When choosing a tree to grow in honor of your loved one, there are multiple places you can take inspiration from:
Choose a tree they loved in their life.
Plant a native tree in their name. Native plants are typically weather appropriate for your region.
Check the language of flowers. People have attributed words, phrases, and meanings to different plant-life throughout the ages. See if certain plants hold meaning to you and your loved one.
When planting a tree, be aware that caring for a plant takes time. However, the result will be a beautiful memorial for your loved one in the form of new life. These trees can be planted indoors, within private property, in a community garden, or even within a tree cemetery. Be sure to check your local region's planting zones to make sure you choose a seed that will thrive in that environment. These kits are typically under $200, with the price being cheaper or more expensive depending on the seed, system, and additional add-on features you purchase.
While cremating is a more environmentally friendly option to a traditional burial, there is still a carbon footprint to be found. Planting a tree not only cultivates a living memorial in your loved one's memory, but it also helps offset that footprint.
Plant a tree in your loved one's name
While turning your loved one's ashes and urn into a tree can be an immensely rewarding experience, a cheaper option could be to adopt a tree or plant a plant in their name. This option allows greater flexibility in the type of plant you choose. You can plant a tree as part of a tree cemetery or other green cemetery, or you could plant it at home. Tree types and sizes can usually be personalized if your loved one liked a particular type. If you are unsure what tree to choose, see resources to help you find trees and other plants that are native to your location.
If your loved one has been cremated, you could additionally erect a memorial near the tree to honor their ashes. For example, you could scatter their ashes near the tree (after neutralizing the ashes to support plant growth), bury a biodegradable urn under the tree, or cast a cremation bench near the tree. Cremation benches are memorials that are simultaneously a bench, and also a holder for an urn.
The loss of a loved one is a difficult experience, and there is no going around the grief. However, honoring the loved one's memory through service back to the earth can be one method of working through that grief. To learn more about the environmental benefits to a direct cremation, see our previous article
At Tulip Cremation, we are dedicated to providing you fast, high-quality direct cremation service at a low-price. If you are preparing for yourself or helping another loved one decide on their funerary affairs, you can begin arrangements today. We offer two pre-paid plans, one from local coverage and one for abroad. If you plan to need the service within six months, our imminent need service allows you to begin making arrangements now, holding on payment until the service takes place. When you're ready to reach out, call our 24/7 Family Care Team at (844) 942-4909 or arrange online.