Spring Flowers Add Meaning and Beauty to Memorials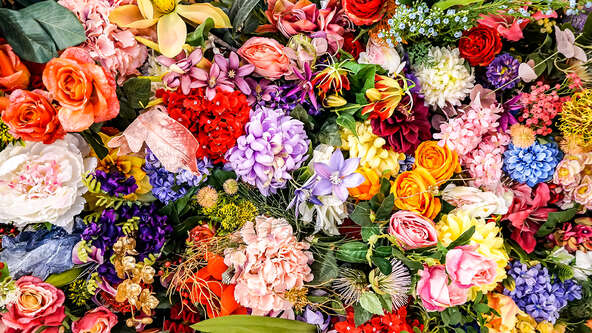 Whether from your garden, florist, wholesaler, or grocery store, fresh flowers add beauty and warmth to a memorial service. And depending on the flower, you'll communicate a more profound message that honors your loved one's memory.

The Power of Flowers
You can add beauty and meaning to a loved one's memorial simply by adding fresh flowers. Whether you have your loved one's cremated remains at the service, flowers at a funeral, or a life celebration, express respect, sympathy, and love.
Spring flowers represent renewal and rebirth. After a cold, dark winter, the first bright shoots of crocus, hyacinth, lilac, or tulip (our personal favorite!) are a lovely reminder of life's eternal cycle.
Flowers have their own unique language. Flowers' meaning depends on the type, color, and even how a bouquet is tied or arranged.
Keep reading to learn the meaning of specific flowers and answers to frequently asked questions about funeral flowers.
Understanding the Language of Flowers
People have always been fascinated by the language of flowers. Studying flowers was extremely popular during the Victorian era when men and women expressed little in public because of strict social rules. A young couple in love might communicate with each other through flowers. Pink camellias meant "longing for you," gardenias represented a secret love, and forget-me-nots were self-explanatory.
Meaning of Spring Flowers
You can communicate love, faith, and other positive messages depending on the flowers you choose for a memorial service.
Lilies
Lily flowers represent purity, innocence, and rebirth. White lilies are often used in artwork depicting the Resurrection of Christ or the Virgin Mary.
Carnations
Carnations often have more than one meaning, depending on the color and type of celebration. White carnations are widely used for sympathy flower arrangements. Red carnations symbolize admiration; pink blooms stand for remembrance.
Gladioli
Gladioli are named after the Latin word "gladius," meaning sword. They are commonly associated with strength and integrity. White gladioli represent innocence, purple for grace, and pink and yellow gladioli symbolize joy and compassion.
Chrysanthemums
In the U.S. and many European countries, chrysanthemums, especially white mums, are commonly used in funeral floral arrangements. In Asian countries, white chrysanthemums are associated with the afterlife.
Roses
Similar to the lily flower, white roses symbolize purity and innocence. Pink roses show appreciation and grace. And red roses are nearly universal in their expression of love. Yellow roses represent friendship.
Daffodils
One of the first flowers to bloom in spring, daffodils represent new beginnings and rebirth. Yellow daffodils are a cheerful flower that might be fitting for someone who always looked on the bright side.
Tulips
Another symbol of new life, tulips are often associated with deep feelings of love and affection. White tulips symbolize condolences or forgiveness.
Daisies
Aside from the "they love me/they love me not" association with its petals, daisies represent several positive attributes: joy, purity, innocence, new beginnings, and cheerfulness.
Planning a memorial? Discover the best songs for funerals on our curated Spotify playlists.
FAQ about Funeral Flower Arrangements
Is it tacky to use artificial flowers? How do you know what size container or vase to use? Read on to learn the answers to these questions and more.
Could I use a flowering potted plant at a memorial?
It is acceptable to decorate the memorial service with potted plants. Common flowering plants used for funerals include orchids and peace lilies, but feel free to feature any flowering plant you wish. After the service, transfer the plant to your garden or a larger container. You'll have a beautiful reminder of your loved one's life celebration.
Is it tacky to use artificial flowers or greenery for a memorial service?
Some families prefer using artificial flowers to keep them after the memorial service. The pollen from freshly-cut floral arrangements makes people with seasonal allergies uncomfortable. If you're planning a memorial service in the winter, fresh funeral flowers could be out of your price range, particularly if your favorite floral isn't in bloom.
What size vase should I use?
Choosing flowers for a memorial service also includes selecting vases or containers. Typically, the length of the flower stems should be at most twice the height of the vase. If you choose roses or lilies with 20-inch stems, you'll want to use a vase that is 10 or 12 inches tall.
How do I keep fresh flowers from wilting too soon?
Whether you give them to guests after the memorial service or take them home, here are a few suggestions for extending the beauty and bloom of fresh-cut flowers. Click here to download tips on preserving fresh flowers.


Where can I find tips on flower arranging?
We've collected some easy DIY flower-arranging tips for you:
24 Easy DIY Flower Arrangement Ideas
8 Simple Steps to Arrange Flowers Like a Pro
How To Make A Tied Flower Arrangement In Clear Cylinder Vase
Long-lasting Support from Tulip
As funeral professionals, we know families deserve support long after the memorial service. You'll find expert advice guides to help you through the grief and loss that is a normal reaction to losing a loved one. If you have questions about our simple, affordable cremation service, please contact our care team anytime. We are here 24/7, every day of the year.