Does Medicare Cover Cremation?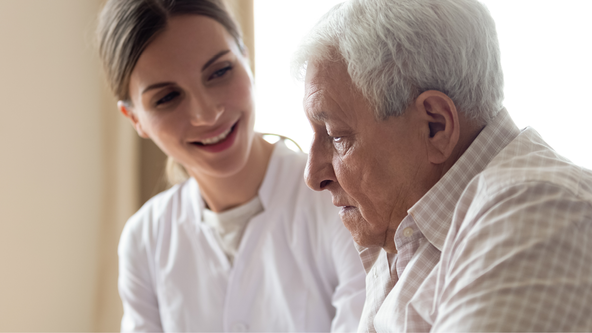 One of the biggest hurdles we face after losing a loved one is budgeting for their funeral. On the one hand, we want the best for them, just as we did in life. We want to give them the sendoff they deserve. But on the other hand, end-of-life costs can be expensive—and we have our own bills to pay, and perhaps children or other family members to support.
So we look for ways to reduce the cost of memorializing our dearly departed without sacrificing the quality of their memorial service. The first places many of us look are government programs like Medicare, Medicaid, and social security. But just how helpful are these resources in offsetting end-of-life expenses? Does social security include funeral benefits? Can Medicare or Medicaid cover cremation costs?
Can Medicare, Medicaid, or Social Security cover cremation?
The short answer is no—none of these programs include specific coverage for cremation costs. However, there are ways to gain financial assistance through each of them that will help offset those costs.
Medicare
Regardless of the type of Medicare plan, Medicare does not consider funeral costs to be medical expenses. Therefore, you can't use Medicare money directly for your loved one's cremation. However, if your loved one had a Medical Savings Account plan and named you as their beneficiary, it is possible that leftover money from the plan will go to you, depending on when the money was deposited into their account. This money can then be used for whatever you wish—including cremation services.
Medicaid
Like Medicare, Medicaid will not pay directly for cremation, burial, or memorial services, as they are not considered health care costs. However, when evaluating a person's eligibility for the program, they do not count the value of any burial plots owned or prepaid funeral plans purchased. They also allow participants to set up a trust using their own money. If your loved one did so, it's possible that you will be able to use the money in this trust to help cover their cremation.
However, the rules regarding trusts and funeral expenses vary from state to state, with many requiring that the trust exists for at least five years before it can be used for end-of-life costs. As such, it's important to check the Medicaid website or talk to a representative to determine the exact guidelines for your loved one's state of residence.
Social Security
While social security does offer payments called "survivor benefits" in the event of a loved one's passing, this is only available to certain family members, and is dependent on whether your loved one worked in a job insured under Social Security. Often the amount will not be enough to fully cover cremation and other funeral costs—but it can certainly help.
If your dearly departed loved one was your spouse and you lived with them or are eligible for social security benefits on their record, you may receive a one-time payment of $255. You may likewise receive this payment if they were your parent and they had no surviving spouse. Some family members may also receive monthly payments—see the specific guidelines provided by Social Security for more details.
Other financial aid options
If none of the above apply to your situation—or if the assistance they provide simply isn't enough—don't give up hope just yet. In addition to the possibilities listed above, there are other resources available which can help you pay for a loved one's cremation and other end-of-life expenses.
If your loved one is, or was, in hospice care, see if you can talk to a hospice social worker. They will likely be able to connect you with valuable resources that can help you get the financial support you need.
Be sure to check your local coroner's office to see if your family might qualify for burial assistance.
Private financial aid programs can offer support as well—just take care to do thorough research before choosing one to ensure that their service is high-quality and trustworthy.
Don't forget to check whether your loved one had a Payable on Death (POD) account or life insurance plan. Depending on how much they set aside, it may be enough to cover part or all of their funeral costs.
You can also set up a memorial fund in your loved one's name through a bank or online crowdfunding platform to seek further assistance from friends and family members.
All of the above can play an integral role in keeping end-of-life costs manageable. However, there's one more thing you can do that will make a huge difference: choosing an affordable direct cremation service.
Making affordable cremation arrangements
With direct cremation services, you pay only for a simple, dignified cremation—no bells, no whistles, and no hidden fees. This allows providers to offer their services at a fraction of the cost of a traditional funeral home's offerings without sacrificing the quality of their service.
If you need to make arrangements for a loved one who has recently passed, Tulip Cremation offers an at-need cremation service. Our service includes transporting your loved one from their place of passing into our care, preparation, cremation, and the safe return of their ashes to you.
If you or a loved one wishes to make plans for the future, you can easily sign up for one of our two prepaid cremation plans. We offer monthly payment plans for both of our Simple Plan options – local and worldwide. Both offer guaranteed pricing that protects against inflation and other price increases, meaning you'll never pay more than what you signed up for.
If you are expecting a death in the family within the next six months, we also offer an imminent-need plan which allows you to make the initial arrangements for their cremation now and pay only once our services are needed.
Whatever you need, our dedicated Family Care Team is available 24 hours a day, seven days a week to assist you in any way we can. We know that sorting out end-of-life expenses and arrangements can be a little overwhelming, which is why we strive to make arranging cremation as simple and easy as possible. All it takes to get started is a quick phone call or a couple of clicks on our website, and through it all, our Care Team will be by your side to support you every step of the way.
Tulip Cremation's direct cremation service is simple and budget-friendly, with low, upfront pricing and no extra fees hiding in the fine print. For more information or to begin arranging your loved one's cremation, call our Care Team at (844) 942-4909 or visit our website to arrange online quickly and easily.