What is Cremation? Understanding the Cremation Process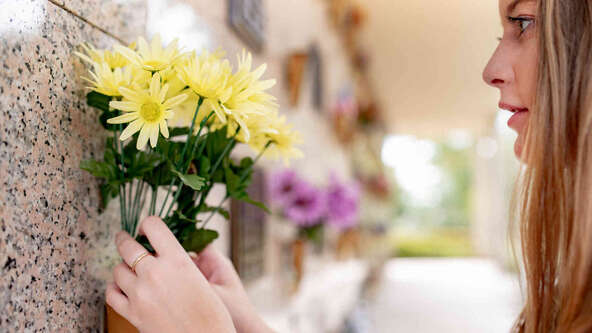 No one can prepare you for the loss of a loved one, but knowing that they will be respectfully and lovingly cared for can relieve some of your worries. Cremation vs burial is a common concern that can be a challenge to deal with during this difficult time. Let's explore some of the history and facts about cremation to help you better understand the cremation process.
History of Cremation
Cremation has been a method of final disposition for the human body for thousands of years. In basic terms, cremation is the process of breaking down the body through high heat, producing ashes. The ashes are also commonly referred to as "cremains", a portmanteau of the terms "cremation" and "remains".
The oldest evidence of cremation (as well as the oldest human remains found in Australia) are attributed to an aboriginal woman known as the Mungo Lady. She lived around the shores of Lake Mungo, which is currently a dry lake located in New South Wales, Australia.
Modern Cremation
Modern cremations, described as using a cremator within a crematorium, began about a century ago. Cremation techniques were further developed for the western world in the late-19th century, and showcased in the 1873 Vienna Exposition by Professor Ludovico Brunetti of Padua. Another great proponent of cremation during this time was Sir Henry Thompson, Queen Victoria's surgeon. A year after the Vienna Exposition in 1874, he published Cremation: The Treatment of the Body After Death─ an influential piece in support of the practice. This attracted global attention, sparking a cremation movement in both Europe and the Americas.
Cremation has been seen as both celebratory and taboo, depending on individuals' religion and culture. However, according to the Cremation Association of North America, the national cremation rate in the United States was over 50% in 2018─ and continues to rise.. Cremations have become a popular , modern funerary practice. In certain areas where land is scarce and expensive, cremations have become the default choice for those looking to honor their loved ones.
Direct Cremation: What Are the Ashes?
Wanting to understand what is happening to your loved one during their cremation process is a given. Some crematories allow visitors to witness the crematory, however, another option is a direct cremation. A direct cremation is a simple, straightforward alternative to traditional cremation services, where through the service of a direct crematorium provider, your loved one is transported from their place of passing directly to the crematorium for their private cremation. Following the cremation, your loved one's ashes are returned to you directly.
The "ashes" are a product of burning the body and refining it to create the fine powder. The returned cremation remains are typically around 3 to 7 pounds, and should be a pasty, white colored powder. The material is composed of dry calcium phosphates with minor minerals mixed in, and it can be safely scattered or buried in memorial of your loved one with advance permission from your local authorities. You can learn more about the cremation process here.
Cremation Services Near You
Making the decision on how to best say goodbye to your loved ones is a difficult and stressful one, and you may wonder how safely and securely will they be cared for. It is important to ask those questions and expect transparency, quality, and support throughout the process. If you are interested in learning more about cremations, we at Tulip Cremations are happy to help you through your decision. If you are ready to learn more about our direct cremation services, call our Family Care Team at (844) 942-4909 or arrange online.
Photo by Yucel Moran on Unsplash