12 Tips for Planning an Autumn Celebration of Life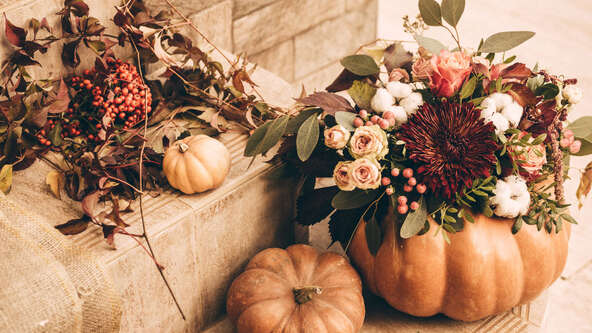 A fall-themed memorial service can offer comfort and solace, reflecting the cycle of life and the promise of renewal. Keep reading about the season's rich symbolism, cultural history, and 12 tips for creating a meaningful autumnal farewell.
As summer days give way to the enchanting fall season, the world becomes a tapestry of warm colors, a symphony of rustling leaves, and a delicious harvest of autumn fruits and vegetables. The season provides a fitting backdrop for a respectful farewell to a loved one.
Historical and Cultural Significance of Autumn Celebrations
From the Harvest Moon Festival in China to the Thanksgiving celebrations in the United States, autumn signifies the cycle of life, the fulfillment of hard work, and the preparation for the upcoming winter months.
Historically, cultures celebrate autumn for its symbolic association with harvest, gratitude, and transition. Many ancient cultures revered this season as a period of abundance and thanksgiving for a successful harvest.
In Celtic cultures, the festival of Samhain represents the end of the harvest season and the beginning of winter. It was also considered a time when the boundaries between the worlds of the living and the dead were blurred, allowing loved ones who had passed to return to Earth.
Native American Celebrations in Autumn
Native American tribes across the United States each have unique traditions, cultures, and ceremonies, which often differ significantly from one another. Here are a few examples of Native American autumn celebrations.
The Choctaw Nation and other Native American tribes participate in a Green Corn Ceremony. This fall festival includes traditional games, dancing, and storytelling to mark the ripening of corn corps.
Every year on September 6, 1839, the Cherokee Nation celebrates the signing of its Cherokee National Constitution. Held in Tahlequah, Oklahoma, this event includes traditional Cherokee games, food, music, and cultural activities.
The Navajo Nation Fair, usually held in September in Arizona, is the largest Native American fair in the United States. It includes a rodeo, parade, traditional song and dance, and an agricultural exposition to celebrate the harvest.
The Algonquin tribes of the northeastern United States celebrate the fall harvest with a ceremony that includes dancing, singing, and feasting.
Click here for more ways to honor and remember this fall.
How To Plan an Autumn Life Celebration
You don't have to be a crafting or DIY expert to plan a meaningful and affordable memorial service. These tips should help you create a memorable and touching life celebration that honors your loved one.
Consider an Outdoor Venue
Outdoor spaces adorned with the splendid colors of fall can offer a serene and natural setting for a life celebration. A park, garden, or family backyard adorned with russet leaves can create an ambiance of tranquility and reflection. If an outdoor venue isn't feasible, consider bringing autumn indoors with autumnal foliage, potted plants, and arrangements featuring fall blooms.
Use Autumn's Palette for Decor
You do not have to use only black or dark colors for a memorial service. Use nature's bronzed autumnal palette to guide your color scheme. Decorate with rich orange, red, gold, and brown hues from tablecloths and napkins to floral arrangements.
Tea Dye for Table Linens: You can use tea – the kind you drink – to dye white tablecloths, napkins, or table runners into gorgeous fall colors. Click here for the how-to video.
Fall Florals
Opt for seasonal blooms such as chrysanthemums, dahlias, and marigolds, all of which come in vibrant autumnal hues. Combine these with branches of dried berries, oak leaves, dried cornstalks, gourds, and pinecones to create beautiful and meaningful arrangements.
And don't forget about flint corn. Flint or ceremonial corn comes in various colors, including red, purple, blue, and yellow. The rich hues of its kernels make flint corn a popular choice for ornamental use as a natural symbol of harvest time.
Easy Centerpiece: Fill a clear glass vase or hurricane lantern with small ears of flint corn for a simple and elegant centerpiece. You can also add other autumn elements, such as pinecones, acorns, or mini pumpkins.
Personalize with Simple Fall Elements
Set up a memory table where guests can place mementos or write memories of their loved ones on cards of autumnal colors. This provides a comforting space for sharing and remembering.
You can use flint corn, gourds, or dried flowers to decorate the table or make one of these easy crafts:
Simple Wreath: You can create a striking wreath by gluing ears of flint corn onto a straw or foam wreath form. Alternate the colors of the corn for a dynamic and appealing look. Add some dried flowers or autumn leaves for extra color and texture.
Corn Husk Flowers: Soak the husks in water until they are pliable, then cut them into petal shapes and attach them to a piece of wire with floral tape to create the flower. You can add color using acrylic paint for more vivid corn husk flowers.
Flint Corn Garland: String the corn together using a strong needle and fishing line or twine to create a beautiful garland that can decorate doorways, tables, or railings.


Refreshments
Whether you choose a caterer or opt for a potluck, cooler autumn temperatures invite comfort food and soothing warm refreshments:
Beverages
Warm apple cider, chai or other spiced teas, mulled wine (for adult guests only), regular or decaf pumpkin flavored coffee
Food
Pumpkin soup served in small cups or shot glasses, mini quiches, herb-stuffed mushrooms, cheese and apple platters, pumpkin bread, or muffins.
Music
Did your loved one have a favorite playlist? You can easily play a personalized soundtrack with your wireless device, Bluetooth, and speakers. Live acoustic music, such as a guitar, violin, piano, or harp, can also add a heartfelt touch to the proceedings.
Music Suggestions
These songs focus on the passage of time and could add a poignant touch to a fall funeral. Check out our top ten lists of the most popular funeral songs here.
"Time" (Pink Floyd)
"Times of Your Life" (Paul Anka)
"Seasons of Love" (from the Broadway show Rent)
"Landslide" (Fleetwood Mac)
"Father and Son" (Cat Stevens)


Keepsakes
Send guests home with a keepsake to remember the day. Get inspired by autumn to create simple, tangible reminders of the cycle of life and the enduring presence of your loved one.
Plant a Memory: Provide packets of seeds from plants that bloom in autumn, like chrysanthemums or marigolds. These can be planted in honor of the loved one and will serve as a living memorial that blooms each fall. You can also buy tree saplings or give your guests a link to have a memorial tree planted by American Forests, a non-profit agency dedicated to reforesting North America.
Pressed Leaf Bookmarks: You can press colorful autumn leaves in a book for a few days until they're dry. Once dried, laminate and trim them to create beautiful, natural bookmarks. Add a tag with a meaningful quote or your loved one's name and date.
Painted Rocks: Collect smooth stones. Paint them in fall colors or write a short message or memory. Guests may place them in a memorial garden, on a headstone, or in a columbarium niche.
Like the seasons, life is a cycle of birth, growth, death, and renewal. Autumn memorials can help you find solace in this bountiful season's beauty and symbolism. Planning a celebration of life in the fall is a heartfelt farewell until the springtime of memory returns again.


Get More Expert Advice from Tulip
Tulip offers simple, affordable cremation you arrange online or over the phone. Our 100% remote arrangements cost significantly less than traditional funeral homes. We handle all the details for your loved one or your prearrangements with licensed funeral directors and a compassionate 24/7 care team.
Learn more about Tulip and sign up for our free monthly newsletter for expert advice on planning a memorial service, grief support, and other valuable resources.
12 Tips for a Beautiful Fall Memorial Service
Fall Foliage: Incorporate fall leaves, branches, and flowers into your decor. These can be real or faux, depending on availability and practicality. The changing colors of the leaves can symbolize life's transitions, making them a meaningful addition to a memorial service.
Pumpkin Decor: Use pumpkins in varying sizes and colors as table centerpieces or aisle markers. Consider carving or painting the pumpkins with significant symbols, initials, or even meaningful quotes to your loved one.
Flint Corn Accents: Utilize flint corn in your decor. Tie bunches of flint corn with rustic twine or ribbon and place them around the venue, or use them to adorn the entrance. This will lend a traditional harvest feel to the ceremony.
Color Palette: Stick to a fall color palette of oranges, yellows, browns, and reds. Mix and match these warm colors into everything from tablecloths and napkins to floral arrangements.
Autumnal Floral Arrangements: Use chrysanthemums, sunflowers, or dahlias in rich autumn hues for your floral arrangements. Add dried leaves, wheat sprigs, or even small gourds for a unique touch.
Seasonal Refreshments: Serve warm, comforting refreshments that evoke the feeling of fall. Hot apple cider, pumpkin spiced coffee, or cinnamon tea can give your guests warmth and comfort.
Memory Table: Set up a memory table draped with an autumn-colored cloth. Allow guests to bring photos or items that remind them of their loved one, and use flint corn and small pumpkins as accents.
Nature-Inspired Music: Choose acoustic music that resonates with the theme of nature and the passing of seasons. Harp, guitar, or even nature sounds can add a calming ambiance.
Farewell Ritual: Plan a ceremony to release dried leaves into a nearby river or on the wind, symbolizing the release of grief and the carrying forth of love and memories. Incorporating a farewell ritual can bring solace and closure.
Candle Lighting: Use fall-colored candles to create a serene and peaceful atmosphere. Guests could light a candle while sharing a memory of their loved one, casting a warm and loving glow over the proceedings.
Keepsakes: Provide guests with small souvenirs to remember the day, such as mini pumpkins or a small bundle of flint corn tied with a message of gratitude.
Storytelling: Encourage guests to share their favorite stories or memories of their loved ones. Storytelling creates a sense of community and shared mourning, helping everyone feel connected and supported.