Can You Actually Die from a Broken Heart?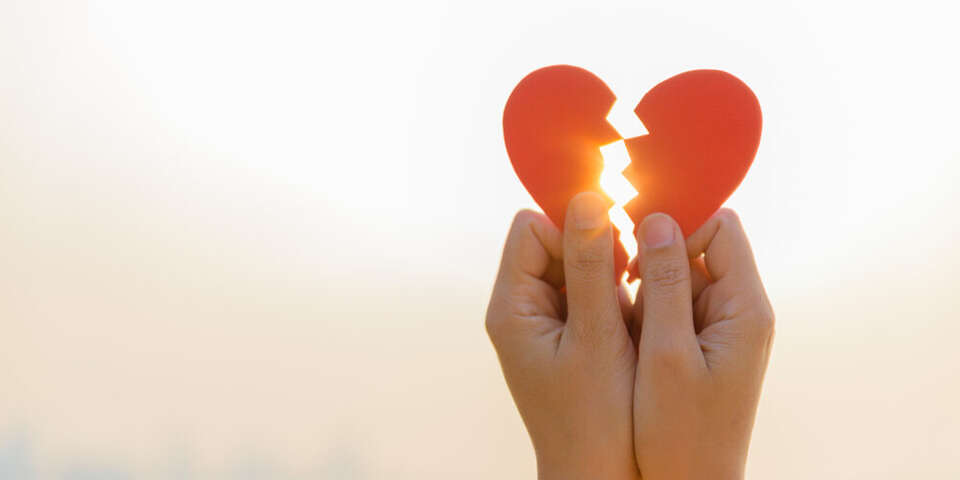 How To Cope With Heartbreak This Valentine's Day and Beyond
They write songs about it, but is it possible to die from a broken heart?
According to the Cleveland Clinic, yes. Broken heart syndrome is an extremely rare but authentic medical condition.
Valentine's Day can be particularly challenging for individuals who lost a spouse or romantic partner. Please keep reading to learn more about protecting your physical and emotional health from broken heart syndrome.
What Is Broken Heart Syndrome?
Also called Takotsubo cardiomyopathy (after the Japanese physician who identified it), broken heart syndrome mimics a heart attack. Unlike actual cardiac events caused by blocked arteries, extreme emotional duress may cause intense surges in adrenaline. This flood of hormones may stop blood flow to the heart, creating spasms.
In most cases of broken heart syndrome, these spasms cease, hormone levels subside, blood flow resumes, and the heart returns to its normal function. In rare circumstances, the syndrome may create irreversible heart failure and death.
How to Protect Your Heart
February is American Heart Health Month. Heart disease (also called cardiovascular disease) is the leading cause of death in America for both men and women. Although broken heart syndrome is more prevalent in women, it's by no means the greatest threat to heart health.
When you're dealing with grief, it's easy to forget about taking care of yourself. Heart health is probably not top of mind if you're grief-stricken by a recent or anticipated loss. But depression, fear, anger, and other negative emotions increase your risk of developing heart disease.
Here are some suggestions from the Cleveland Clinic on reducing your risk of heart disease from physical and emotional causes.
Eat Heart-Healthy Foods
Obesity (body mass index of 30 or higher) is a significant factor in heart health. Following a heart-healthy diet can help reduce your risk of cardiac disease.
The Mediterranean diet focuses on food from countries in the region that typically have low rates of heart disease.
A heart-healthy diet consists of:
Fruits
Vegetables
Whole grains
Healthy fats, such as olive oil
For quick and tasty Mediterranean food selections, click here.
Get Moving
The Cleveland Clinic recommends 150 minutes of moderate physical exercise every week for adults in good health. Research indicates that short yet frequent exercise has all the benefits of extended sessions. It's easier than you think to incorporate exercise into your busy schedule.
What's your favorite way to exercise?
Walking
Riding a bicycle
Swimming
Dancing
Rowing
The best form of cardiovascular exercise is the one you're likely to stick with over time. Always check with your physician before beginning any exercise or fitness program.
Stop Smoking
Smoking is a well-known risk factor for heart disease and other serious medical conditions. The longer you smoke, the greater your chance of developing atherosclerosis or hardening of the arteries. And yes, vaping, chewing tobacco, and smoking cigars (and pipes) all have adverse effects on your health.
The good news is that even if you've smoked for years, you can still reap the benefits of a healthier body.
It's challenging to give up a long-time habit. Talk to your healthcare provider about effective ways to quit smoking. You can also check out the Centers for Disease Control and Prevention (CDC) smoking cessation website.
Improve Your Mental Health
Your brain is part of your body. When we experience poor mental health, the consequences are often physical: heart palpitations, insomnia, fatigue, and more.
Grief is a powerful emotion that can easily overwhelm you. It's tough to be surrounded by reminders of lost loves, especially birthdays, anniversaries, and holidays.
Joining a grief support group allows you to share your thoughts and emotions in a safe, non-judgmental space. Talking to others who also lost someone close to them can make you feel less isolated.
There are dozens of non-profit organizations that offer grief counseling and support, including:
Healing from a Broken Heart Takes Time
There is no timeline or schedule for a broken heart. We encourage you to take care of your physical and emotional health. Now is the time to lean on supportive family members, friends, and neighbors.
Tulip is here for you as well. Our team members are available 24/7 to answer questions about preneed or immediate plans for direct cremation. Direct cremation is a dignified and affordable option to traditional burial or cremation services. You only pay for the services you need, without pressure or up-selling tactics.
You can make arrangements from the comfort and privacy of home, either by phone or online. To learn more or talk with a member of our care team, call (844) 942-4909 or reach us online.