Anticipatory Grief: When a Loved One Is Dying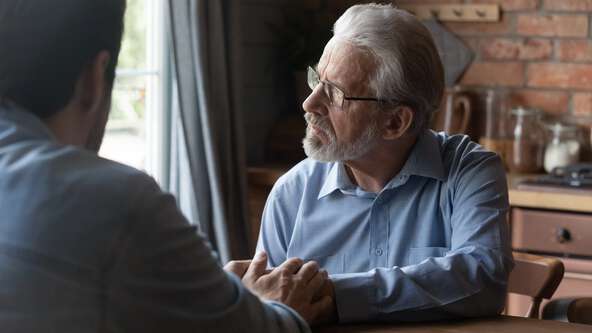 What to do when grief begins before your loved one's passing.
You expect to feel grief and loss when a loved one passes away. What might surprise you is that many people experience anticipatory grief long before the physical death of a spouse, family member, or friend.
According to the National Health Council, approximately 133 million Americans have a chronic illness that is incurable and ongoing. Whether it is cancer, heart disease, or another life-threatening condition, grief, loss, regret, and anger are common emotions for caregivers, friends, and family members.
Grieving Starts Before Actual Death
If your loved one was terminally ill, you probably began grieving before they died. When a loved one receives a fatal diagnosis, you might experience anticipatory grief. Anticipatory grief generates feelings of remorse, sadness, and regret knowing that your loved one's death is close. If you are (or were) your loved one's caregiver, your anticipatory grief may be pretty intense.
How to Deal with Anticipatory Grief
Your feelings of grief tend to increase as your loved one's disease progresses. It is common to mourn not only a future without your loved one but to miss the times when they were healthy.
Author Angie Drakulich wrote about what it was like during her father's final months of an incurable illness. She wondered if it was selfish to grieve before his death: "My dad is still fighting to hold on. Why do I feel as though I'm grieving when he's not yet gone?"
Mourning someone's death before they're gone can help prepare you for their passing – or it may not. Even if your loved one is days away from the end, it's only natural to cling to their continued existence, however tenuous.
Help and Hope for Anticipatory Grief
Say what should be said. Today.
You don't want to regret not speaking sooner. Don't wait to say you love them or that you enjoyed sharing their life. When someone dies unexpectedly, you may not have this chance. Embrace the present by saying what you feel today.
Take care of unfinished business.
After a loved one's death, the last thing you need is lengthy and costly probate if they die without a will. Make sure your loved one has a chance to establish their final wishes, from choosing beneficiaries for their estate to selecting what type of funeral they want.
Try to keep living your own life.
Many people with terminally ill loved ones find it difficult to continue with their own life. They feel guilty about taking precious time away for work, family, or relaxation. But that's what you should do to avoid stress and burnout, particularly if you are a caregiver.
Talk to someone who understands your situation.
Bottling up your feelings is unhealthy for you physically and emotionally. It might be uncomfortable at first for you to open up, but it's part of the healing process for many people. Talk to a therapist, spiritual advisor, or find a grief support group.
Symptoms of Grief and Loss
According to the National Hospice and Palliative Care Organization's Caring Info program, grief takes on different forms for everyone.
Some of the most common emotional reactions to grief include:
Feeling numb, as if you are in shock
Physical symptoms such as nausea, shortness of breath, crying, lack of energy, sleeping too much or too little, and changes in appetite
Anger
Guilt
Lack of interest and withdrawal from family, friends, and everyday activities
Difficulty focusing or making decisions
Questioning your faith or the purpose of life
Grieving can be a long, slow process. You might feel as though you will never feel like you did before your loved one's passing.
Resources for Anticipatory Grief
There are many resources to help you cope with intense feelings of grief and loss. It is not a sign of weakness to reach out; losing a loved one is one of life's most profound and wrenching experiences.
Here are a few resources suggested by Caring Info:
Check with a hospice near you

for grief counseling, support groups, and other helpful services.

Talk to your doctor about worsening or prolonged physical or emotional symptoms.

Seek counsel from your faith community, if applicable.

Ask your employer about programs and resources available through your workplace.

Chat with a trained crisis volunteer by texting HOME to 741741.
Your friends and family members can help. You can ask them to join you on a walk or simply listen on the phone as you sort through your feelings. It is comforting to talk to someone who has experienced the same loss -- you'd be helping them as well.
How Tulip Can Help
Preparing for a loved one's passing is never easy, but knowing that there is an end-of-life plan in place can be a comfort. You can choose an affordable direct cremation package online or by phone with the help of a Tulip Cares team member.
We are here to help relieve as much stress as possible with our low-cost, high-quality direct cremation plan. Call anytime to speak with a Tulip team member at (844) 942-4909 or make arrangements online.