What's Your Family Story?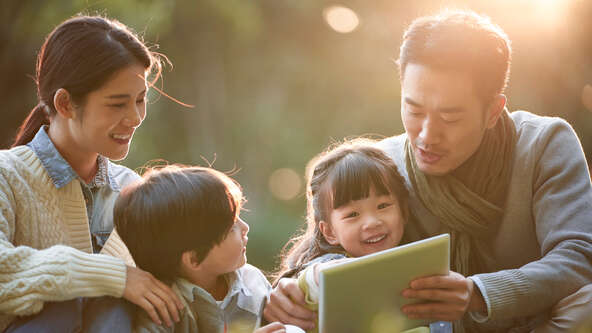 November is Family Stories Month. With Thanksgiving and the winter holidays approaching, it's the perfect time to capture your family's unique history. Keep reading to find tips!
Family Stories Inspire Future Generations
Growing up, Michael would beg his mother to talk about her parent's immigrant journey to America, but she usually refused. It wasn't until he and his mother shared her small house during the Covid lockdown that he heard of his grandparent's harrowing escape from their native land. Learning about how his family members overcame hardship and challenges helped ease the anxiety and isolation of the pandemic.
Family stories can be funny, tragic, and inspiring. These familiar tales create a sense of continuity to help us endure painful experiences and celebrate joyful occasions. And family stories reassure children and young adults that although the path through life isn't always easy, people before them successfully made the journey.
Recording Your Family Stories
Not so long ago, family stories were limited to photo albums, scrapbooks, diaries or journals, and perhaps a few audio recordings, videos, or family movies.
Today, capturing and sharing family stories is easier than ever, thanks to smartphones, video conferencing platforms, and social media. You can record your family's oral history over dinner; by breakfast, everyone in your contacts will have a copy.
Family stories also play an important role in eulogies. Rather than a laundry list of your loved one's life and accomplishments, sharing a moving or humorous family tale is a beautiful tribute. People preplanning their burial or cremation may instruct their loved ones to share a favorite story or anecdote.
Get started with a free, instant quote
Answer a few brief questions below and receive an instant quote for your direct cremation needs.
Five Tips for Family Story Success
Family stories provide a vibrant opportunity to bridge generational gaps. They strengthen bonds and help individuals learn an invaluable sense of community.
Starting a family story project requires some planning, time, and patience. Here are five things to consider as you launch your oral history project.
Only interview or include family members who are on board. Give relatives time and consideration before sticking your phone or a camera in their faces. Most of us would like a little warning to brush up on our appearance and think about what to say.
Start small, such as gathering vignettes about birthdays or family vacations. It takes time to collect years of stories. You'll be less frustrated with defined parameters at the beginning.
Ask open-ended questions, and don't hesitate to ask for details or follow-up. Inquire about specific events, like details about your parent's wedding day or the day you were born. Or ask which memories are the funniest, happiest, or even saddest.
Interview one or two people at a time unless you can establish rules about cross-talk or interruptions. Otherwise, you could wind up with forty minutes of unintelligible conversation.
Seek inspiration and guidance from the pros at StoryCorps, the oral history project from the American Folklife Center, and broadcast on National Public Radio.
Don't Delay
All the positive aspects of capturing your family stories as an oral history could be lost if you wait. Memories fade. Pictures – especially those developed from negatives that are no longer available – can be lost or thrown away. The people in those family photos could remain unidentified for the next generation, losing their meaning.
Now is the perfect time to start the conversation about your family's unique history. Savor the experience of collecting family stories and be sure to share what you gather with your children, grandchildren, nieces, and nephews.