Why We Observe Memorial Day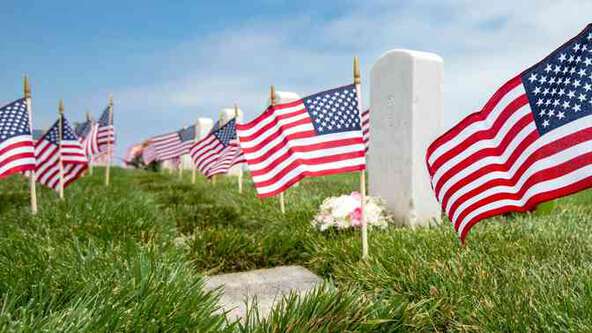 What began as an informal tribute in the turbulent aftermath of the Civil War, became a federal holiday dedicated to America's fallen service members. Learn why this solemn celebration is always the last Monday in May, the significance of red poppies, and how you can pay respect to the men and women who made the ultimate sacrifice.

Decoration Day Becomes an Annual Event
Local communities began decorating the graves of Civil War soldiers as early as April of 1866, one year after the war ended. People laid flowers and flags on the graves of both Union and Confederate soldiers. From Richmond, Virginia to Boalsburg, Pennsylvania, small towns and cities paid homage to fallen service members from America's deadliest war.
In 1868, a group of Union veterans called the Grand Army of the Republic helped organize the first large scale observance at Arlington National Cemetery. General Ulysses S. Grant was among those who attended. May 30 became known as Decoration Day because Spring flowers were in bloom and used to decorate military graves.
Waterloo, NY: Birthplace of Today's Memorial Day
In 1966, the small upstate New York community of Waterloo was recognized as the official birthplace of Memorial Day as we now know it. Starting in May of 1866, the town hosted an annual event in which businesses closed their doors and residents placed memorials in veteran's cemeteries.
From May 30 to the Last Monday of the Month
Memorial Day 2022 actually falls on May 30, but that's not always the case. For decades, Memorial Day was observed on the date. In 1968, Congress established Memorial Day as the last Monday in May, creating a three-day weekend for federal employees and others. Since the law went into effect in 1971, Memorial Day weekend has become the unofficial start of summer.
Memorial Day and Veterans Day: What's the Difference?
Memorial Day and Veterans Day both honor our military men and women, but are different holidays. Memorial Day pays respect to American service members who died in military service to the nation, in combat and otherwise. Veterans Day honors the nearly 20 million Americans who currently serve or have served in the military.
Proper Memorial Items: Flags, Flowers, and Momentos
Placing a small American flag on a veteran's gravesite or memorial is always appropriate. You may also put a flag from their branch of service – United States Marine Corps, U.S. Army, Air Force, Navy, or Coast Guard. Family members or friends might place something that reminds them of their loved one's service job, such as a model jet or submarine.
Why Red Poppies Symbolize Fallen Service Members
Poppies – the bright little flowers that are technically classified as weeds – became the symbol for fallen soldiers in World War I. A Canadian Lieutenant Colonel named John McCrae was a brigade surgeon for an Allied artillery unit in Belgium. After surviving a tremendous battle, McCrae was so touched by the sight of red poppies blooming in that same area – Flanders Field – that he wrote a poem:
In Flanders fields the poppies blow
Between the crosses, row on row,
That mark our place; and in the sky
The larks, still bravely singing, fly
Scarce heard amid the guns below.
Many veteran's organizations, including the Veterans of Foreign Wars (VFW) make and distribute artificial red poppies for Memorial Day lapel pins and decorations.
Respect the Rules on Flowers
People also use carnations, roses, lilies, and daisies for Memorial Day. Just be sure to check with the cemetery or memorial park's guidelines for floral arrangements. Some prefer that you bring real flowers that naturally disintegrate while others allow artificial flowers.
Coins on Veterans Memorial or Headstone
The ancient Romans placed coins on the graves of fallen soldiers to ensure their souls could pay for passage into the afterlife. In modern times, the custom of putting a coin on the headstone or memorial of a service member notifies the family that you've paid your respect.
The coin's denomination has further significance:
A penny indicates you visited.
A nickel means that you and the veteran trained together.
A dime shows that you served together in some capacity.
A quarter indicates that you were present when the veteran passed away.


Simple Ways to Honor America's Veterans
Memorial Day is a holiday for many Americans. It's a day off to spend with family and friends, often with a barbeque or picnic. If you're not a service member or have family members who served, you might not know how to observe the true meaning of Memorial Day.
Here are simple ways to show your respect for the men and women who sacrificed their lives for our liberties:
National Moment of Remembrance
Wherever you are at 3:00 pm, observe the National Moment of Remembrance on Memorial Day. Even working Americans pause at this time to remember and reflect on those who lost their lives in service to our country.
Visit a Local Cemetery
Many funeral homes, cemeteries, and memorial gardens have Memorial Day observances. They have American flags that you can place on gravestones of veterans. You could also visit a veteran's memorial.
Attend a Memorial Day Parade
Check your local events calendar and attend a Memorial Day parade near you.
Display the U.S. Flag
Decorate your home with the red, white and blue. Click for proper flag etiquette
Watch the National Memorial Day Concert
This year's annual event will be televised live from Washington, D.C. on Sunday, May 29, 2022 at 8:00pm ET. Click here for local listings or for live stream
Donate to Veterans Organizations
Make a donation to a reputable organization that supports active and retired service members as well as those who have passed away. These include The USO, Wreaths Across America, Cell Phones for Soldiers, and Bugles Across America.
Thank You
We'd like to express our deepest gratitude to America's veterans. Without your service and sacrifice, we would not enjoy the blessings of liberty that are the foundation of our nation. On behalf of Tulip, thank you.