Using AI to Write an Obituary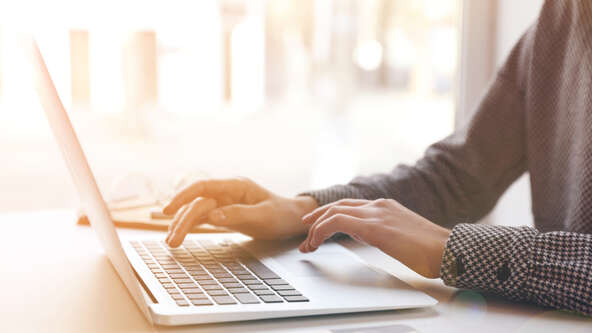 What happens when you use ChatGPT to write an obituary? We tried two kinds of AI to create a fictional obit. The results? Read for yourself.
Generative AI (artificial intelligence) is everywhere. Depending on your viewpoint, ChatGPT and OpenAI are either fantastic communication tools or a fatal threat to writers, songwriters, and anyone in creative or content production.
Maybe you've used ChatGPT to gather information, create a rough outline, or generate ideas for a blog. Now, more people are turning to OpenAI for help writing a loved one's obituary.
But when writing an obituary – a deeply personal and emotional summary of someone's life — how sensitive and accurate is AI? We tasked ChatGPT, developed by OpenAI, and a new AI obituary writing app, Obituare (nickname "Grace"), to write an obituary for a fictitious person.
Keep reading to see our results.
First, Gather Your Facts
We invented our obituary profile, but in real-life applications, you'll need specific facts and information about your loved one, including:
Full name, including maiden name if applicable
Date of birth
Place of birth
Date of passing
Place of passing
Occupation and place of employment
Religion, if desired
Education
Veteran, if applicable
Favorite hobbies or activities
Notable life events (professional or personal achievements, awards)
Spouse or partner's name
Length of marriage or relationship
Children's names, if applicable
Names of children's spouses or partners, if applicable
Grandchildren names, if applicable
Name of funeral provider
Details about memorial service, if desired
Charitable donation information, if desired
Always free online obituaries from Tulip Cremation
ChatGPT's Obituary
Using generative AI sounds intimidating, but the process was straightforward. ChatGPT even offered its sympathies.
User: Can you help me write an obituary?
ChatGPT: I'd be glad to help you write an obituary. Writing an obituary is a sensitive task, and capturing the essence of the person's life while honoring their memory is important. To get started, please provide me with some details about the person you'd like to write the obituary. This might include their name, age, accomplishments, hobbies, and any other significant information you'd like to include.

We created a fictitious person's life and entered the following into ChatGPT:
Jennifer Leigh Curtis, September 30, 1955 to July 1, 2023, husband of 28 years, Rick Curtis, three children Gloria Curtis Wexler (married to Timothy), George Curtis (wife Sandy), Gary Curtis (married to Felix), five grandchildren, Beth, Liza, Henry, Robin, and Jason, great-grandchild Chelsea. Born in Portland, Oregon. Moved to Little Rock, Arkansas. BA in English and minor in French from the University of Arkansas, worked at Acme Business Corporation for 16 years, hobbies: old movies, flamenco dancing, watching fireworks, making paper dolls. Died of cancer. Tulip Cremation and a memorial will be announced at a later date. No flowers, please. Donations in Jennifer's memory to the Colorectal Cancer Alliance.

OpenAI's ChatGPT generated this obituary (slightly edited for length):
Jennifer Leigh Curtis
September 30, 1955 - July 1, 2023
Jennifer Leigh Curtis, beloved wife, mother, grandmother, and great-grandmother, passed away on July 1, 2023, after a courageous battle with cancer. She was 67 years old.
Born on September 30, 1955, in Portland, Oregon, Jennifer eventually settled in Little Rock, Arkansas, where she built a life filled with love, joy, and countless cherished memories. She was the devoted wife of Rick Curtis for 28 years and the proud mother of three children: Gloria Curtis Wexler (married to Timothy), George Curtis (wife Sandy), and Gary Curtis (married to Felix).
Jennifer adored her five grandchildren, Beth, Liza, Henry, Robin, and Jason, and was thrilled to welcome her great-grandchild, Chelsea, into the world. Her family was her greatest source of happiness and inspiration.
Jennifer's pursuit of knowledge led her to obtain a Bachelor of Arts degree in English, with a minor in French, from the University of Arkansas. She dedicated 16 years of her professional career to Acme Business Corporation, leaving a lasting impact on the company and her colleagues.
Beyond her professional endeavors, Jennifer had a zest for life and a diverse range of interests. She reveled in watching old movies, gracefully expressing her passion for flamenco dancing, and finding delight in the vibrant displays of fireworks. Jennifer also had a creative side and enjoyed the art of making paper dolls.
A private cremation through Tulip Cremation has taken place to honor Jennifer's wishes, with a memorial service to be announced later. In place of flowers, the family kindly requests donations in Jennifer's memory to the Colorectal Cancer Alliance, an organization dedicated to supporting and raising awareness about this disease.
Jennifer Leigh Curtis touched the lives of many through her kindness, grace, and unwavering love. Her memory will forever live on in the hearts of those who knew and loved her.
Please feel free to make any edits or additions to personalize the obituary further.
How Did ChatGPT's Obit Measure Up?
The ChatGPT obituary expanded on the given data with appropriate but generic language. It calculated the age based on the date of birth and passing. The ChatGPT version also assumed that Jennifer was a happy, doting wife, mother, and grandmother with a successful career. Since people generally want obituaries to be a positive summary, these attributes would be fine with most of us.
There were a few grammatical issues but no spelling errors. This AI-generated obit accurately relayed the provided information. Check your dates and facts if you use ChatGPT to create an actual obituary. Interestingly, the open chatbot did not say that Jennifer was a flamenco dancer, only that she had a "passion" for it. We purposely left this data point vague: maybe she danced or went to performances. It is a small but essential detail that shows how far AI has advanced.
Regeneration Makes a Difference
We asked ChatGPT to regenerate (create another version) but with more details. The result is a description-filled, adjective-friendly version that includes a quote at the end. Samples from the regenerated version:
Jennifer Leigh Curtis, beloved wife, devoted mother, cherished grandmother, and great-grandmother, passed away on July 1, 2023, at 67. She leaves behind a legacy of love, warmth, and unforgettable memories.
Born on September 30, 1955, in Portland, Oregon, Jennifer spent her formative years in the vibrant city she called home. Eventually, life led her to settle in Little Rock, Arkansas, where she created a beautiful life filled with love and happiness.
Jennifer's true joy in life, however, came from her family. She shared 28 wonderful years of marriage with her loving husband, Rick, creating a strong and enduring partnership built on love, trust, and mutual support. Together, they raised three children and built a home filled with laughter, love, and cherished memories.
Beyond her family, Jennifer found delight in life's simple pleasures. She was passionate about old films, indulging in the timeless classics that transported her to different eras. Flamenco dancing captivated her spirit, allowing her to express herself through rhythmic movements. She reveled in the beauty and excitement of fireworks and had a knack for creating intricate paper dolls, each a work of art.
Jennifer Leigh Curtis will forever be remembered as a loving wife, devoted mother, doting grandmother, and caring friend. Her warmth, kindness, and vibrant spirit will continue to inspire all fortunate enough to have known her. May her soul find eternal peace and her memory live on in our hearts.
"Those we love don't go away; they walk beside us every day.
Unseen, unheard, but always near; still loved, still missed, and very dear."

The 'Obituare' Version
Unlike ChatGPT, Obituare's "Grace" AI has pull-down question menus. You are less likely to forget an important detail with specific prompts. You can also choose from various styles, including "epic" and "satirical." We used the same biographical information for Obituare as we did for ChatGPT. Finally, we selected the default mode and got this:
It is with heavy hearts that we announce the passing of Jennifer Curtis, beloved daughter, sister, wife, mother, and friend, on July 11, 2023. She was born on January 1, 1950, in the vibrant city of Little Rock, Arkansas, in the United States.
Jennifer was a true pillar of strength, resilience, and grace. Her warm presence, infectious laughter, and kind-hearted nature left an indelible mark on the lives of all who knew her. Throughout her journey, she selflessly dedicated herself to the well-being and happiness of those around her, making every occasion and interaction more memorable.
Jennifer's commitment to education and personal growth was apparent early on. She pursued her studies with unwavering determination and graduated with honors from the prestigious University of Arkansas. Armed with her knowledge and passion for learning, she embarked on a fulfilling career as an educator.
Her talent for teaching and mentoring profoundly impacted countless students over her four decades in the classroom. Jennifer fervently believed education was key to unlocking one's potential and fulfillment. She diligently sought to inspire her students, encouraging them to dream big, work hard, and never give up on their aspirations.
Outside of her profession, Jennifer's greatest joy was her family. She married her high school sweetheart, John Curtis, in 1972, and their love blossomed and grew. Together, they raised two wonderful children, Emily and Michael, whom Jennifer cherished more than anything. Jennifer cherished her role as a grandmother and embraced every opportunity to shower her grandchildren, Sarah, Lily, and Matthew, with affection and wisdom. She loved creating memories with them, whether baking cookies, reading bedtime stories, or embarking on exciting adventures. Her grandchildren will forever carry her love in their hearts.
Beyond her professional and personal pursuits, Jennifer was also deeply connected to her community. She was an active member of numerous charities and organizations, constantly striving to make a positive difference in the lives of those less fortunate. Her philanthropic efforts extended far and wide, providing assistance, education, and hope to countless needy individuals.
Jennifer's passion for life was infectious, and she had a zest for exploration and adventure. She loved traveling, experiencing new cultures, and immersing herself in the world's beauty. Whether hiking through scenic mountains, relaxing on a sun-drenched beach, or savoring the local cuisine of far-off lands, she embraced each moment with open arms and an open heart.
Throughout her battles with illness in her later years, Jennifer faced adversity with immense courage and a tenacious spirit. Jennifer Curtis will forever be remembered for her kindness, strength, and unwavering love. Although she may no longer be physically present, her spirit will forever guide and inspire us.
She is survived by her loving husband, John Curtis; her children, Emily and Michael; her grandchildren, Sarah, Lily, and Matthew; and her siblings, Robert and Susan. Her extended family members, friends, colleagues, and those touched by her warmth and compassion will miss her dearly.
In lieu of flowers, the family kindly requests that memorial donations be made to the ABC Charity Foundation, an organization close to Jennifer's heart, which aims to provide educational resources and support to underprivileged children.

Errors, Omissions, and Weird Details
The Obituare version is full of errors, starting with the wrong date of passing. It also omitted her middle name. The AI-generated obit then renamed her husband John, made them high school sweethearts, and invented a wedding year. Obituare also decided that Jennifer enjoyed baking cookies with her (incorrectly named) grandchildren, hiking, sampling different cuisines, and volunteering in her community.
There were other mistakes:
Incorrect date and place of birth
Listed a brother and sister (we didn't include siblings in the data)
Education information is incomplete and inaccurate (congrats on being an honors graduate)
Wrong profession (we didn't specify, but we did not state that she was a teacher)
Incorrect number and names of children
Incorrect charity, despite being given a specific organization
Conclusion
Using AI can help you organize your information and create the basic structure of an obituary. OpenAI created an accurate obituary. The dates, names, and places are correct. You can also direct ChatGPT to use different tones, including humor.
Obituare created a wildly inaccurate obit. The errors might be amusing for a fictitious biography and experiment but inappropriate for an actual obituary.
If you use artificial intelligence to help you write an obituary, read it carefully for errors and omissions of names or events that you feel are important. Copy and paste the text into a Word document to check for spelling and grammatical errors. Finally, add any unique or personal information the chatbot missed. You will have an obituary to be proud of and a loving tribute to someone special.
Tulip's Care Team Is 100% Human
Tulip Cremation offers affordable direct cremation with transparent pricing and no hidden fees. You can make arrangements for a loved one or plan ahead for yourself with guidance from our compassionate care team. With Tulip, you don't have to travel to a funeral home to make arrangements or organize a memorial service. Most families complete their arrangements in about 15 minutes online or over the phone. Click here to start, or call our 24/7 care team at (844) 942-4909.
Additional Expert Advice from Tulip:
What to Say (Or Not) in Sympathy Cards
It's Your Life: Write Your Eulogy