Top Picks for Podcasts on Life, Loss & Laughter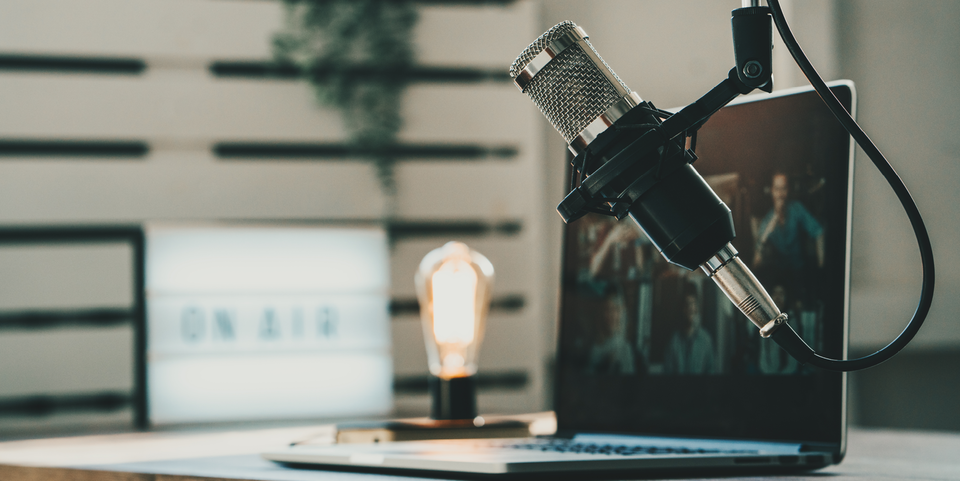 There are thousands of podcasts available for you to stream or download on various topics, including grief, dying, and loss. Podcasts are increasingly popular – 104 million Americans regularly listen – because their conversational style allows for in-depth discussion.
Read on for our podcast suggestions on topics ranging from the serious to the seriously funny.
Grief and Loss Podcasts
These podcasts may help you sort through the kaleidoscope of emotions after losing a loved one.
Produced by the Dougy Center and hosted by Jana DeCristofaro, Grief Out Loud promises to be "cliche free." Their podcasts provide a mix of personal stories, interviews with grief and loss professionals, and tips for supporting grieving family members.
Mary Beth Lamey, LISW-CP, is a Community Care Coordinator with a South Carolina funeral home. She considers the Dougy Center the gold standard of practice in helping children, teens, and young adults deal with the death of a family member. Located in Portland, Oregon, the Dougy Center offers safe spaces and free resources with nationally-recognized grief support programs.
Brooke James lost her dad to cancer in April 2019. She searched for resources that would help her with both the practical and emotional needs that she experienced. Unsatisfied with available resources, Brooke consulted experts and other grieving millennials and began her podcast.
The Grief Coach covers such topics as how to talk to your parents about end-of-life wishes, discussing grief on social media, and moving past anguish into new relationships. Brooke interviews therapists, authors, funeral professionals, and spiritual leaders in search of answers for herself and her listeners.
Griefcast is hosted by Cariad Lloyd and recorded at Whistledown Studios in the U.K. The winner of three gold prizes at the British Podcast Awards in 2018, Griefcast discusses death and grief, but with comedians – "it's cheerier than it sounds."
Each weekly podcast features an interview with comedians and media personalities who share personal stories about those they have lost. Griefcast combines humor with compassion for discussions that touch on a broad spectrum of grief and loss.
Choosing Joy After Grief & Loss
Pam Stoddard is a certified Life Coach and a widow. Her podcast, Choosing Joy After Grief & Loss, speaks more directly to widows and women's challenges after losing a spouse or family member. She uses her life experiences and professional expertise to explore loss and grief with her listeners.
As you would expect from its title, this podcast helps widows and others find joy in their lives. With gentle urging and personal testimonials, Pam encourages listeners to live large, not despite the grief, but because of it.
End-of-Life and Transitioning Podcasts
Podcasts explore the transition from life to death for yourself or a loved one.
Host Cianna Stewart was a teenager when her mother passed away. She also helped terminally ill friends come to terms with their mortality. Since then, she has been fascinated with dying, death, and how to make the transition in a courteous, compassionate manner for ourselves and our loved ones.
Topics on Dying Kindness include conversations with and about caregivers, estate planning, cremation, and end-of-life doulas. The result is a podcast that is a refreshingly candid but respectful conversation about dying.
Dr. Karen Wyatt is the host of End of Life University. She is a hospice physician widely recognized for her deep understanding of the spiritual aspect of illness, dying, and death. The author of many books, it was her father's suicide that found Karen wanting to share her personal and professional wisdom.
A typical End of Life University includes interviews with experts from various fields and guidance toward hope and healing. Listeners gain an insider's view of both the medical and spiritual aspects of hospice and palliative care.
Death, et seq. (Death and What Follows)
"Death, et seq" translates to "death and what follows." Host Tanya Marsh is a law professor at Wake Forest University School of Law in Winston-Salem, North Carolina, and a practicing "death care" attorney in Shelbyville, Indiana. Death et seq seeks to demystify the law on human remains and other death care issues.
A former commercial real estate lawyer, Tanya switched her focus and began the Death, et seq podcast to explore the legal aspects of death, funerals, and cemeteries. Her podcasts help listeners understand the rules and ask thought-provoking questions about how society views death.
Nurses, doctors, staff, and volunteers from Hospice of Southern Illinois discuss all matters related to hospice. With an emphasis on living, guests highlight the importance of planning for a peaceful end-of-life journey and what that means for everyone.
Bringing Life to Hospice is heartwarming and mind-opening as hospice professionals promote comfort and awareness of a challenging topic. There are also tips and reminders for caregivers, patients, and the general public who want to approach end-of-life issues without fear or misinformation.
Podcasts on the Lighter Side
Four suggestions for comedy podcasts, including family listening, to brighten your mood and lift your spirits.
That Story Show - Clean Comedy
Hosts James Kennison and John Steinklauber share hilarious real-life stories. That Story Show began in December of 2006 as "Nobody's Listening", but it was clear that many people were regular followers. The podcast focuses on clean comedy appropriate for listeners of all ages.
Story Pirates is a family-friendly podcast featuring top comedians, musicians, authors, and teachers who bring stories (written by kids) to life. The Story Pirates Podcast won the 2020 and 2022 iHeartRadio Awards and the Webby Awards for Best Kids and Family Podcast. Special celebrity guests include John Oliver, Lin-Manuel Miranda, Dax Shepard, and Lake Bell. This innovative podcast encourages kids to explore their creativity and use their imagination to express their feelings and observations.
Recorded live as a radio show but available for download, this long-running quiz show tests listeners' knowledge of current events and news. Produced by National Public Radio (NPR), Wait, Wait…Don't Tell Me! allows audience participation as they determine whether quirky news stories are real or invented by the comedic panel. Listeners can play along using the show's website.
Fly on the Wall with Dana Carvey & David Spade
Each week, these "Saturday Night Live" alums interview celebrity friends, such as Tina Fey, Ben Stiller, Judd Apatow, and more. Comedy legends Dana Carvey and David Spade crack jokes as they banter with guests from movies, television, and stand-up. Sometimes the humor gets rowdy; be advised if young children are listening along.
Podcasts to Help You Sleep
Grief, depression, and stress can make falling asleep challenging, but these four podcasts will have you nodding off in no time.
Insomnia is no laughing matter, but Sleep With Me uses comedy and storytelling to help listeners drift asleep. Launched in 2013 by host Drew Ackerman, Sleep With Me has been featured in The New York Times and The New Yorker. With an average running time of 100 minutes, most listeners fall asleep listening to Ackerman's rambling, comedic stories.
Dr. Craig Harris Richard (who simply goes by Harris) helps calm racing thoughts and ease listeners to sleep with whispered readings, stories, and poems. Sleep Whispers also has soothing meditations to instruct listeners to let go and fall asleep gently. It's a sleep podcast designed to soothe and relax, not one to listen to while driving.
Stories From the Borders of Sleep
Host Seymour Jacklin is a former mental health nurse. His understanding of the importance of rest on mental health prompted him to create the podcast. Stories from the Borders of Sleep consists of short stories written or collected by Seymour, designed to help listeners relax and rest. Although aimed at adults, most episodes are suitable for children who struggle with falling asleep.
One of the most popular sleep podcasts, Sleep Cove has over 25 million downloads. Hosted by hypnotherapist Christopher Fitton, Sleep Cove uses hypnotherapy, meditation, and mindfulness to help you get a good night's sleep. Some episodes focus on the mindful application of stress-reducing activities, such as deep breathing, while others are stories, folk tales, or history lessons.
We Listen to You
We hope you found our list of podcasts informative and entertaining. When it comes to making preplanned funeral arrangements, Tulip is here to listen to you. We offer simple direct cremation at affordable prices. Whether you need our services right now or want to plan ahead, our family care specialists listen to your needs, answer your questions, and help you make arrangements by phone or online.