Food for Grieving (That's Not a Casserole)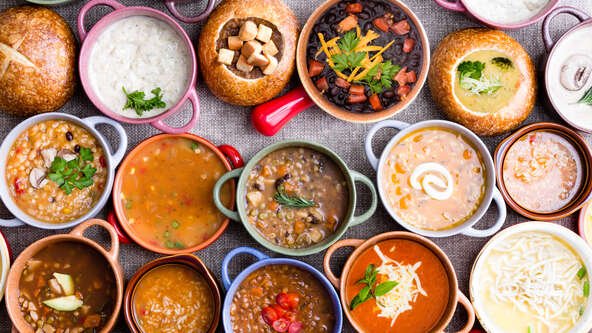 For centuries, people have prepared and brought food to grieving people. It is a simple, comforting reminder that the bereaved are not alone. Casseroles are okay, but they are only one of your options. Keep reading for fresh ideas on an age-old act of condolence.
Preparing and bringing food to a grieving family is not only thoughtful, but it is also practical. The first hours, days, and weeks after losing a loved one are a blur of making arrangements, calling relatives, planning memorials, and taking care of necessary paperwork.
Grieving people tend to have trouble sleeping and eating on a regular schedule. The lack of nourishing food contributes to their physical and emotional decline. And simply, the act of coming to their home with food is proof that you care, which is incredibly comforting after losing a loved one.
Why Casseroles Are Popular for Sympathy Meals
There is a reason why friends, family, and neighbors gravitate toward carb-heavy meals like lasagna, mac n' cheese, pulled pork, and various casseroles for grieving families: they're comforting. Most people are familiar with these dishes, and it reminds them of happier times. Not only does bringing food show compassion, they actually make grieving people feel better. As humans, carbs make us happier, especially when stressors like grief cause a drop in our natural serotonin levels. A warm, cheesy helping of lasagna boosts your brain's serotonin uptake, making you feel satisfied and calmer, at least in the short term.
Another bonus: these meals can be frozen and reheated for another night. Sugary foods, like cakes, cookies, and pies, are also comforting and popular as sympathy foods. Eating sweets boost drooping sugar levels, which can happen when people fail to eat regular meals.
Regional and Cultural Sympathy Food Favorites
In the American south, it's common to bring grieving families fried chicken, a hot chicken salad casserole, or a plate of deviled eggs and sandwiches with the crusts cut off. If you live in a northern state, you might bring a hearty lamb stew, eggplant parmesan, or chili. Aromatic chicken noodle soup is hard to beat, especially if you provide a warm loaf of crusty bread to accompany it.
In Hispanic communities, families often eat soup, tamales, and mole, a rich sauce that can be either savory or sweet, depending on the type. For Jewish families sitting shiva, consider bringing food that doesn't require preparation, like bagels, bread, candy, nuts, cookies, and cakes. Ramen is a favorite for Asian families, although its popularity crosses all cultures. For Indian families, tomato-based curry dishes are comforting.
You might like this article on How Different Religions Honor Their Lost Loved Ones
Options for Non-Cooks
You can still provide a nourishing meal even if you don't cook. Many grocery stores offer ready-to-eat meals in a variety of options. You could also bring fresh rolls, cold cuts, cheeses, and potato salad. Drop off a fruit and vegetable platter along with an extra-large sub. Never underestimate the appeal of a warm pizza. And for ultimate flexibility, give a DoorDash, Uber Eats, or other food delivery gift card.
Tips for Providing Food to Those Who Are Grieving
Follow these tips for successful sympathy food deliveries.
Respect peoples' dietary and allergy restrictions.
Consider any food allergies, preferences, and dietary restrictions the family may have. If you need clarification, ask. You can also share the ingredients for families to review.
Make sure someone is home to accept delivery.
Reach out to a family member to schedule a meal delivery time. The type of meal you're bringing affects when you should deliver it, whether it's food that should be served hot or requires refrigeration.
Extend an invitation to eat at your home.
Depending on your relationship with the family and their comfort level, invite them to your home for dinner. Don't pressure them, but grieving families might appreciate a change in scenery.
Tell them you're preparing or bringing food.
It can be challenging for some people to accept help from others. Tell them that food is on the way instead of asking if you can bring it. As the saying goes, sometimes it's better to ask for forgiveness rather than permission.
Use disposable containers.
You can find disposable or recyclable food-safe containers everywhere (an aluminum roasting pan is handy for just about any type of food). However, food delivered in a baking dish invites the recipient to return it when they are ready to visit, a sign of support that you will continue to be there for them.
Label the container.
Even if you don't want or need the container returned to you, always label the outside with your name and what's inside to avoid any issues with allergies or dietary restrictions. Include a note with heating instructions (if necessary) and a personal sympathy message.
Five Fresh Recipes to Make & Share
Looking for more ways to help? Click here to read Helping Others Through Their Grief