How to Plan a Living Funeral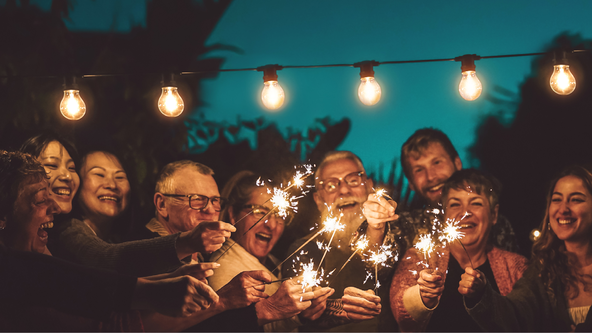 Celebrate your loved one's life with them, not without.
A living funeral might sound like an oxymoron, but this type of ceremony is gaining popularity worldwide. Depending on you, your loved ones, and life circumstances, a living funeral is a thoughtful way to celebrate a life well-lived.
Living funerals, or pre-funerals, are celebrations held while an individual is alive and alert. This unique memorial service may have originated in Japan during the 1990s. Instead of a traditionally negative view of death and dying, older people in Japan chose to take a proactive, healing approach. Their living funerals, "seizenso," also lifted the burden of funeral planning from family members.
The most famous living funeral is probably in the memoir (and film) "Tuesdays with Morrie." Author Mitch Albom met each week with Morrie Schwartz, his former college professor. Near the end of his life, Morrie wants a living funeral to hear what people really think about him. The resulting celebration is both heartbreaking and humorous.
Why Some People Choose a Living Funeral
Facing one's mortality is a complex, emotional, and deeply personal process. It takes an individual with a clear-eyed perspective on their remaining time on Earth and a supportive network of family, friends, and caregivers.
Living funerals allow individuals to reflect on their lives in the most personal and meaningful way. Some pre-funerals are similar to a traditional celebration of life, with speeches – eulogies, really — shared by family members, friends, and co-workers. Others might be more religious or ceremonial.
Tips for Planning a Living Funeral
There are no right or wrong ways to plan a living funeral. Just bear in mind if the guest of honor is older, in frail health, or both. You might want to discuss a date with your loved one's healthcare provider. Arrangements might be needed to accommodate wheelchairs, portable oxygen, and other medical devices.
Where to Hold a Living Funeral
Unlike a traditional funeral, you may hold a living funeral anywhere:
The guest of honor's home
Friend's home
A park
The beach
A hotel banquet room
A bar, restaurant, or pub
A community center
A church, synagogue, or another place of worship
What to Bring to a Living Funeral
Instead of friends and neighbors bringing food after a death, a pre-funeral allows your loved one to pick the menu. Make sure there's plenty of their favorite dishes, drinks, and alcoholic beverages. Also, be sure to have:
Plenty of seating
Parking
Accommodations for food preparation or serving
Restrooms
Tables for food, bar, and beverages
Guest book
Décor in your loved one's favorite color or theme
What to Expect at a Living Funeral
Living funerals offer closure for the individual and family members. Often, the guest of honor speaks about their lives and those nearest their heart. Family and friends share memories, stories, and eulogies.
A eulogy at a living funeral is spoken to your loved one, not about them. This immediacy and interaction are often bittersweet. In addition to spoken tributes, your guest of honor might like to share poems, favorite religious or spiritual verses, or songs.
It is a personal choice to take photos or videos at a living funeral. A pre-funeral also allows family and friends to join together for one last visit. It might be nice to have mementos of this unique celebration of life.
End of Life Planning
More and more people are choosing to celebrate life before death with a living funeral. If you're planning a pre-funeral for yourself or a loved one and money is a factor, you might want to consider simple cremation when the time comes.
Simple or direct cremation costs are a fraction of those for a traditional cremation or burial.
Since the reason for a living funeral is to celebrate during life, you'll have more money to spend on this special occasion.
Tulip Cremation is an affordable, respectful option for many people. Unlike burial that requires a plot or mausoleum, cremated remains can be kept in an urn, scattered in a favorite place, used to create jewelry, or mixed with soil to plant a memorial tree. Of course, you can also choose to bury your loved one's cremated ashes in an urn garden, cemetery plot, or interred in a columbarium.
Talk to Tulip Cares
Tulip Cremation offers simple, affordable direct cremation with arrangements made by phone or online. We take care of all the details, including paperwork and permits. Your loved one's ashes are placed in a simple container and sent to a chosen recipient by secure mail.
Tulip Cremation is an ideal companion for living funerals because it allows you to spend more time with family and more resources on a meaningful memorial. Call (844) 942-4909 to speak with a member of our Tulip Cares team anytime, day or night.
Get started with a free, instant quote
Answer a few brief questions below and receive an instant quote for your direct cremation needs.