Arranging Cremation Without a Funeral Director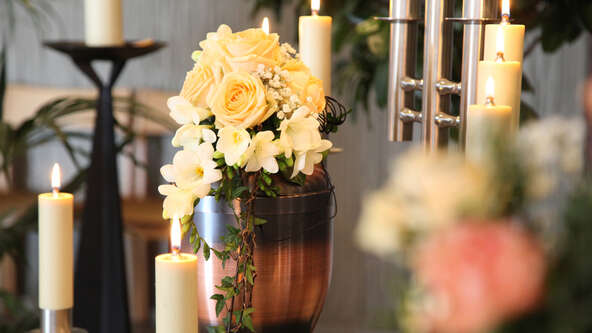 Arranging cremation without a funeral director
Perhaps your loved one asked to be remembered simply, without fanfare or a big funeral service. Perhaps your family can't afford the more expensive service packages that are available from many funeral homes. Whatever your reasons, you're considering arranging cremation without a traditional funeral director. But before you begin to make arrangements, it's important to know whether you can—and to weigh both the benefits and the potential downsides of doing so.
Can you arrange cremation without a funeral director?
The short answer is: sometimes. Some U.S. states specifically require a licensed funeral director to oversee cremation, regardless of whether or not the cremation will be preceded or followed by a funeral service. Similarly, some crematories will only work with funeral homes, not directly with families. A funeral director's services are also necessary if your loved one is to be embalmed for a wake, visitation, or another ceremony before cremation.
However, in many states it is possible to arrange cremation without a funeral director, provided you obtain the death certificates and permits necessary to do so. The real question in this case then becomes whether or not this choice is the right one for you and your family.
Working with—or without—a funeral director
Most funeral directors are just people trying to help other people get through a harrowing time in their lives in the best way they know how. And there are advantages and disadvantages to arranging cremation without a funeral director.
Benefits of arranging cremation WITHOUT a funeral director
Affordability:

It is often less expensive to work directly with a crematorium, direct disposer, or direct cremation provider without a funeral director than to hire the services of a traditional funeral home or arrange cremation with a service.

Simplicity:

If you're not looking to arrange a large funeral, or prefer cremation without a service, you don't need a funeral director to help you plan one.

Flexibility:

Choosing not to work with a funeral home leaves you free to make arrangements in your own time, your own way. This is especially helpful if you want to plan an alternative funeral that goes beyond what a funeral home can assist with.
Benefits of arranging cremation WITH a funeral director
Planning:

A funeral director handles many responsibilities for you, including arranging your loved one's transportation to and from cremation and handling the necessary paperwork.

Professional support:

It can be challenging to focus and plan while coping with grief. However, a funeral director will know exactly what needs to be done, and can help ensure even the smallest details are taken care of.

Emotional support:

Funeral directors are trained to handle all arrangements with care and respect, and can often help point you toward grief counseling and other resources as well.
There is no one right way to arrange your loved one's cremation. If your state law allows it, there is no reason you need to work with a traditional funeral director if you prefer not to. However, it's in your—and your family's—best interests to weigh the decision carefully before choosing your next steps.
It's especially important to note that you can still enjoy many of the benefits of working with a funeral director without the costs or restrictions of a traditional funeral home's services by working with the right direct cremation provider.
Direct cremation: an alternative to traditional funeral services
Direct cremation is as simple as it sounds. Instead of paying premium prices for an elaborate funeral package, you'll pay a low, upfront fee for cremation without a service. This allows you to forego a memorial service altogether if you wish, or arrange one on your own according to your preferences and budget.
Though all cremation providers must be trained and licensed to carry out basic crematory operations, the majority of direct cremation providers do not specifically hire funeral directors. At Tulip Cremation, however, our service includes the guidance of a licensed funeral director at no extra charge. Our director coordinates all cremation arrangements and ensures that you and your family feel supported and respected at every stage of our process, while still allowing families the flexibility to choose their own memorial services.
Our Family Care Team, led by the director, will walk you through each step, and can be reached online or by phone anytime you need to talk. With Tulip, you get the best of both worlds: a straightforward, affordable, and flexible service you can trust, backed by expert knowledge and support from a Care Team that will always put you and your family first.
Tulip Cremation provides an affordable, transparent direct cremation service that includes collection of your loved one, preparation, cremation, and return of your loved one's ashes to any U.S. postal address. Our Family Care Team is available to provide support and expert guidance anytime you need us. Call us at (844) 942-4909 to get started, or arrange online quickly and easily with just a few clicks of the mouse.
Get started with a free, instant quote
Answer a few brief questions below and receive an instant quote for your direct cremation needs.