How To Prepare a Last Will and Testament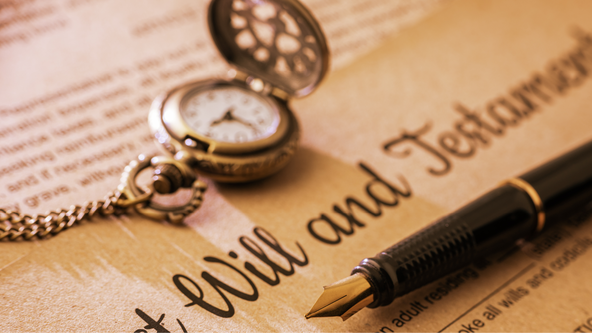 What happens to us after we die?
While we don't know what might happen to us past our death, there is one way to make sure we know what will happen to our assets for those we love most—a last will and testament.
What is a Last Will?
By drafting a last will and testament, also known as a last will, anyone over the age of 18 can designate what may happen to their estate after their passing. An estate can be defined as everything an individual's net worth is composed of, including assets, land, and other possessions. The last will itself is a formal, legal document containing a testator's (the person who has made the will) decisions and wishes regarding possessions and dependents.
Within your last will and testament, you can specify lots of information about not only what assets you want to divide, but also which assets. People tend to give direction regarding: property rights, authority over administering the estate, guardianship over minor children, guardianship over pets, and decisions regarding charity donations. The specifics of your own last will can be as vague or specific as you wish, and while it is entirely possible to draft a last will at home, it is advised to consult a legal professional to look over your will beforehand to check for any inconsistencies that might lead to complications down the line.
It is also good to remember that after you have passed away, your will may become a public record, particularly if it goes through probate (a legal process where a court will determine authenticity). A will goes through probate, if the testator's estate is worth over a certain amount. Typically, it is during this time that the executor is tasked with distributing the assets of the estate.
How To Prepare a Last Will and Testament
It is possible to draft your own last will at home. However, there are various online resources that can help you with writing your last will, including certain online programs (LegalZoom and RocketLawyer both provide online services). You can easily input your preferences, and a legal form will be generated based on your answers. But if you aren't interested in utilizing an online service, you can look to reaching out to a lawyer so you can draft your will together.
If you want to write your last will yourself, be sure to note several important components. You should be sure to state who you want your assets to go to and what assets should go to those individuals. There will be legal jargon involved in writing the will itself, and if you are unfamiliar with any terms, it is recommended to reach out to a legal resource to familiarize yourself before proceeding.
Here are the three most important things you'll have to define in your last will:
Defining a testator ─ The 'testator' is the person whose assets will be distributed after their death. Typically, that individual will be you, if you are writing the last will.
Defining beneficiaries ─ The 'beneficiaries' are the individuals who will receive the assets after your death. This could be family members, friends, or other organizations you wish to distribute your possessions to.
Naming an executor ─ The 'executor' is the individual in charge of distributing your assets after your death. This person is also known as a 'personal representative' and should be someone you trust to execute your will.
It should be noted that there are different state laws regarding how to authenticate a last will. Be sure to check ahead of time to know your state's requirements. Also, laws change all the time. When writing your will, be sure to note the recency of the article, and consult either an official state resources or a legal professional. Most valid last wills and testaments are written and signed by the testator, although it may be possible to have your last will be a holographic will (handwritten by the testator) or nuncupative will (orally spoken by the testator). The regulations regarding a will in those formats differ from state to state, so be sure to check what your state honors before making your decision.
Why You Need a Last Will and Testament
For many people, a last will is their final instructions to family and close friends. It guarantees your possessions and legacy will go to people you believe deserve it. If you don't have a valid last will and testament, you will pass in intestacy. The government becomes the executor of your assets, distributing your possessions, property, and possibly your dependents based on your state's predetermined formula. Additionally, if the court deems your will invalid, your possessions will also follow intestacy laws.
If you have a durable power of attorney, you should still have a last will and testament. Your power of attorney, which grants authority to an individual to make financial decisions on your behalf, expires after your death. Having a valid last will helps guarantee your 'attorney-in-fact' can continue to help you make decisions if you want to keep that person in charge of your estate.
A common concern is the permanence of the legal document. Rest assured, last wills can be changed, edited, and destroyed if necessary. To do so, it can be as simple as shredding the document, but it is recommended to consult a legal professional beforehand to properly destroy the will without any errors. A codicil may be recommended in the circumstance that you want to amend your last will. This legal form will allow you to make changes or adjust your will without creating an entirely new document. It's recommended to periodically review and update your will, especially in the case of any big changes to your life: marital status, dependents, housing, etc.
At Tulip Cremation, we want to make it easy for you when planning final arrangements, for yourself or for your loved one. We offer a number of high-quality direct cremation plans, including pre-need, imminent, or immediate service. We are committed to offering you a transparent cremation service at a low-price. If you want to learn more, we are happy to help you through your decision. Call our 24/7 Family Care Team at (844) 942-4909 or arrange online today.
Photo by Melinda Gimpel on Unsplash