In Memory Of: Cremation Ash Tattoos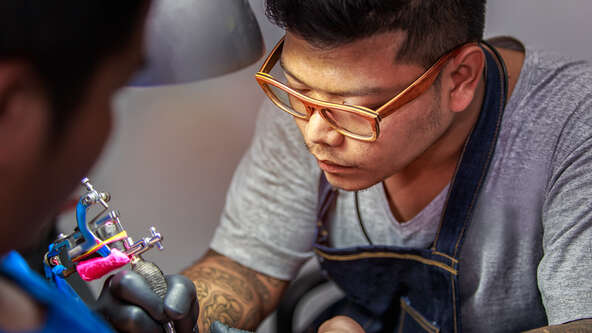 Cremation ash-infused tattoo ink provides a connection to lost loved ones that is more than skin deep. Memorial tattoos created with a blend of ink and cremated remains are a unique and lasting way to commemorate someone special. Keep reading to learn more.
The art of tattooing dates back to 5,000 BCE, and memorial tattoos are just as ancient. Cultural anthropologist Margo DeMello writes about native Hawaiian tribes tattooing their tongues as a tribute to loved ones. The physical pain of obtaining these indelible marks might have helped ease their emotional grief.
Why People Get Memorial Tattoos
Today, memorial tattoos are gaining popularity as people seek personalized ways to honor someone's memory. Whether they include "In Memory Of" or "In Loving Memory" or not, cremation ash tattoos take remembrance to a new level.
More than colorful body art, memorial tattoos express how we feel about someone close to us. They can be as simple as our loved one's initials or as intricate as a replica of their face. Many people find it comforting to have a physical reminder of their loved one for themselves and to show the world.
How Cremation Ash Tattoo Ink Is Made
Getting a tattoo made with cremation ash ink is nearly identical to standard tattoo ink. Combining ink and powdery cremated ashes should not clog the tattoo tools when carefully measured and mixed. The tattoo artist adds a tiny amount of cremated remains to the ink – less than a tablespoon. The mixture is used in a tattoo gun to create your design.
Tattoos created with cremation ashes do not look different. Feel free to create a small or large tattoo that best commemorates your loved one. Like traditional ink tattoos, cremation ash tattoos are considered permanent unless you choose laser removal later.
Are Cremation Ash Tattoos Safe?
Although cremated ashes are not certified sterile, there is minimal risk of infection. Flame cremations reach 1,800 degrees Fahrenheit, effectively eliminating contamination. Tattoo shops should maintain a clean and sanitary environment. Ask tattoo artists near you about their health and safety procedures before getting any tattoo, cremation ash ink, or standard.
Popular Memorial Tattoo Designs
A tattoo artist can show you designs and give you ideas on what your memorial tattoo might look like. Consider how you want to honor someone special, whether with a discreet tattoo or a bold full-sleeve design.
Here are a few popular memorial tattoo designs to consider.
Signature
Inking a replica of your loved one's handwriting is a unique tribute.
Butterfly
A butterfly tattoo symbolizes transformation and hope, making it a fitting design for memorialization.
Birthdate and Deathdate
This is a straightforward declaration that your loved one's life was essential to your own.
Religious Symbols
You can affirm your faith while honoring a loved one.
Angels
Angels and cherubs are often used in memorial tattoos.
Infinity Sign
Nothing says "forever" like the graceful infinity sign.
Flowers
Another popular remembrance tattoo is your loved one's favorite flower or a rose, the universal symbol of love.
Animals
An animal design can be a tribute to someone special, whether a nod to their beloved pet or favorite sports team.
Where to Place a Memorial Tattoo
Tattoos for men and women are more popular than ever. However, some situations or occasions might require that you cover a tattoo. Where you place a memorial tattoo depends on how visible you want it to be.
Here are common placement ideas:
On the arm, near the elbow or shoulder
On foot or ankle
On the chest near the heart
On the back
On the wrist or inside the arm near the elbow
Who Can Get a Tattoo
Nationwide, you must be 18 years old to get a tattoo legally. Many states have age and procedure requirements listed on the National Conference of State Legislatures website. In Florida, minors may get a tattoo with parental consent. California makes it illegal for children (under 18) to get a tattoo, regardless of parental consent. The law in Massachusetts requires that only physicians may tattoo minors.
Because tattoo artists must break the skin barrier, tattoos are considered a medical procedure. Individuals must follow aftercare instructions to avoid certain risks associated with tattooing. These risks include infection from improper care or cleaning as directed. Children and teenagers might not follow the suggested procedures to help prevent infection.
Tattoos are also permanent. There are expensive and painful laser removal treatments, but tattoos are life-long additions to their appearance for most people. You should carefully weigh the pros and cons before getting a memorial tattoo (or any kind).
Cremation Ink Tattoos Offer Comfort
The pain and sadness can be overwhelming when we lose a loved one. Creating a memorial to remember them is comforting. A memorial tattoo with some of their cremation ashes might be just what you're looking for. It is a permanent way to remember your loved one and find comfort despite the grief.