How COVID-19 is Impacting the Tulip Cremation Process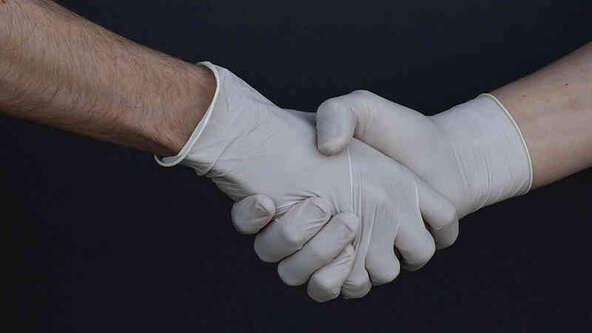 While COVID 19 has impacted funeral and cremation services and continues to evolve, Tulip, as a digital first and direct provider of cremation services, has been impacted less than traditional funeral services companies. Still, it is important to understand the impact caused by this situation and the steps we are taking to keep people safe.
At Tulip, we make the process simple and seamless, so you can focus on what matters, despite COVID-19. Outlined below are new safety measures we are taking, the areas of the cremation process that might be affected by COVID-19, and what you can expect as a result.
1. Bringing your loved one into our care
Our removal teams, like all teams across the industry, are overloaded, so there may be delays when bringing your loved one into our care from a home or hospital. In order to do our part to slow the spread of the virus and ensure the safety of our employees and communities, our Care Team will ask if you or your loved one has tested positive for COVID and will follow strict PPE guidelines.
2. Removal of Property
To comply with safety measures if your loved one passed from COVID or tested COVID positive, the property on the body must be removed before the cremation by a family member or legal next of kin. Please ensure these items are fully removed before your loved one is brought into our care. We understand that there are unique restrictions about visitors in hospitals due to COVID, so make sure you check with the hospital about removing items like jewelry and clothing and hospital staff will likely be able to hold them in a safe for you.
3. Obtaining Death Certificates
The issuing of death certificates is currently delayed because medical staff is overwhelmed by the increase in patients and county staff is overwhelmed by the amount of certificates they need to issue. COVID death certificates may take longer because of hospital and CDC reporting requirements. Ordering a death certificate on your own has also been affected because many health departments no longer offer this or it's by appointment-only and then there is a delay in the actual mailing of the certificate due to an increase in overall shipments.
4. Morgue Space
Morgue and coolers are near full capacity. As a result, there could be delays associated with the delivery of your loved one to these locations.
5. Cremation Process
Two of the above items can cause delays in the actual cremation. To comply with safety measures and contribute to the safety of our staff and communities we are not allowed to retrieve any items from your loved one once he or she is under our care. Also, delays in obtaining a death certificate can further delay the cremation process because we cannot proceed with the cremation until we receive a completed death certificate.
6. Shipment, In-Person Pick-up, and Delivery of Cremation
Shipment/Mailing
To comply with regulations and ensure the proper treatment of your loved ones cremains, we only use Priority Mail Express. In some cases COVID has affected the tracking of the packages which makes it hard for our Care Team to track your loved one's cremains. Please be patient and make sure you enter the right address to avoid any delays in the delivery of your loved one's cremains.
In-person pickup
In some regions in Northern California, pick up in person is not allowed. Contact our Care Team before attempting to pick up in-person.
Hand Delivery
Tulip is no longer offering the option of hand delivery to limit the risk of COVID exposure for our employees and customers. We will deliver cremains via Priority Mail Express.
Why Tulip's Cremation Service Is the Safest and Most Sensible Option During COVID-19
Tulip is a digital-first cremation service with remote support during every step of the process, so you don't have to leave your home during and risk exposure.
With restrictions on in-person gatherings and funeral services, cremation gives you the ability to wait and plan an in-person service in the future with your loved ones' remains present.
You don't have to worry about picking up your loved one's cremains. Stay home. Tulip will mail your loved one's cremains directly to you.
Our removal teams follow all standard and strict PPE protocol when removing a body from a hospital or a home to ensure the safety of our employees and customers.
If you have any other concerns or questions, Tulip's Care Team is always available to answer any questions and provide support along the way.