DIY Military Shadow Box to Honor Veterans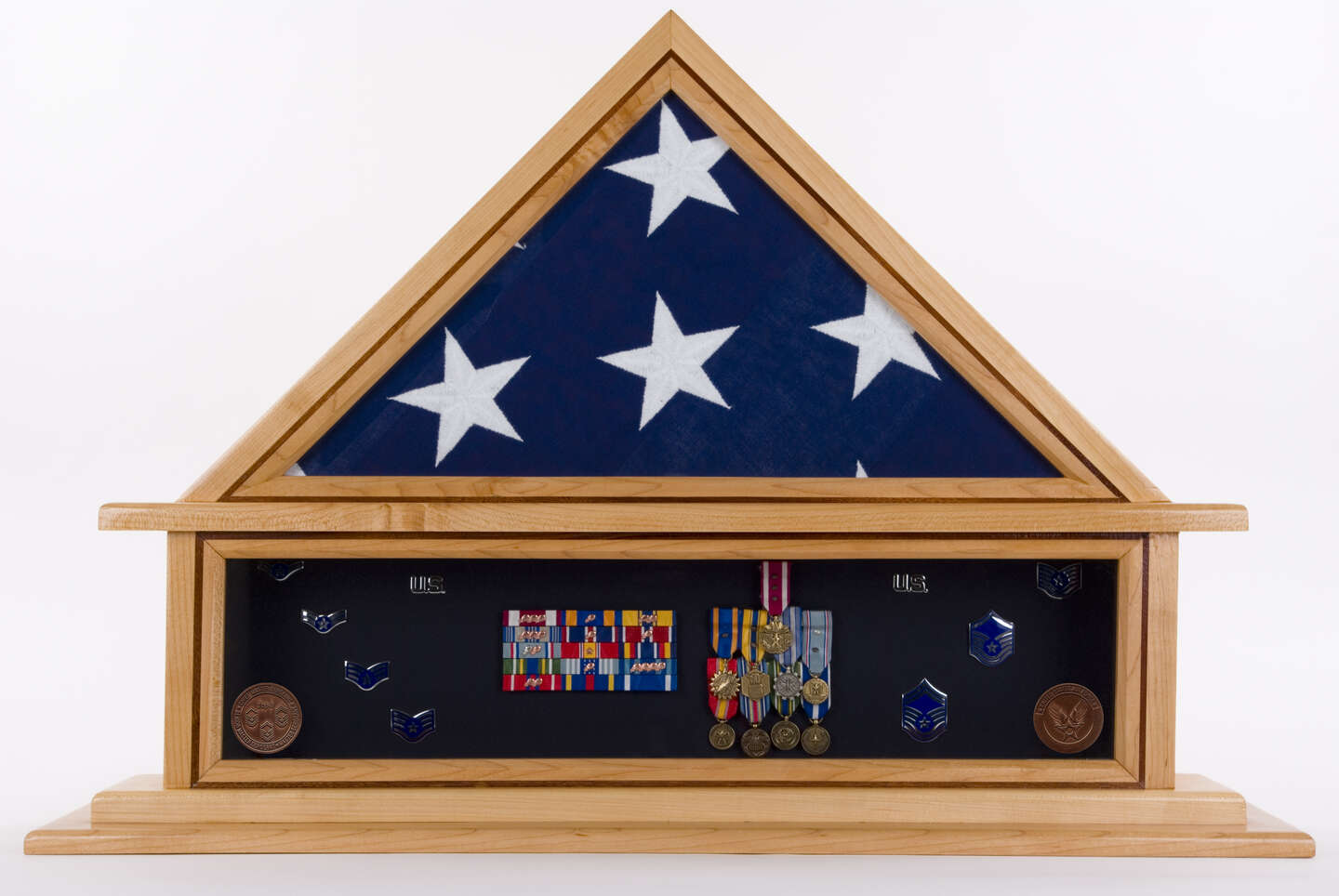 A shadow box is a thoughtful way to commemorate someone's military service to display at home or memorial service. Follow our step-by-step instructions for a beautiful military shadow box you can make at home.
A military shadow box (a military display case) includes awards, achievements, and other personal items that honorably reflect their career or time in the armed forces.
Here is what you'll need:
A deep frame with a glass front (available at most craft stores)
Colored or patterned paper or fabric for the background
Glue, adhesive, double-sided tape, or small craft hooks
Scissors
Gloves (for handling fragile objects and avoiding leaving oil or dirt residue)
Objects to display (such as photos, small things, or memorabilia)
Military shadow boxes are typically made when a person nears the end of their service or when family members want to honor a veteran for a funeral or memorial. Because these memories and mementos are enclosed in a display or shadow box and not easily changed, you want to consider which items to include.
Sorting through your loved one's things can feel overwhelming. Use our helpful hints that make this task a little easier.
Step 1: Identify & Collect Items
Since each veteran or former service member's military career is different, their shadow box will also be unique. You want to include anything that highlights your loved one's military service, which might include:
Insignias
Medals
Ribbons
Pins
Badges
Flags
Photos
You can also add decorative art that supports or enhances the veteran's service. For example, you might include a small wood carving of a specific aircraft or ship on which they served.
If the veteran or former service member is alive or knows you are making a shadow box, you can ask them about badges, awards, service members, and other items they want to include. You'll need assistance from official military information centers and agencies for a veteran who has passed.
Requesting Replacement Medals or Awards
Veterans or their next of kin may request replacement medals, decorations, and awards from the respective military branch of service. The U.S. Department of Veterans Affairs (VA) explains the replacement and request process in more detail on this webpage.
Government Websites for Ordering Medals or Decorations
U.S. Air Force (includes Army Air Corps and Army Air Forces)
On these websites, you will find information on required documentation, ordering replacement awards, and tracking orders.
Did you know Tulip is a certified Veterans Funeral Specialist provider? We can help veterans and their families receive the benefits they deserve. Click here to learn more.
Step 2: Plan Your Design
The simplest way to plan the design is to physically place each item on paper or cardboard of a standard-size shadow box (for example, 12" x 9"). Take pictures of the design you like the best.
Download our template to help you get started.
You can arrange it by shape, type, or date – there is no right or wrong way to create a customized shadow box.
If you're artistic, you can also sketch your design on the box on a piece of paper with a pen or pencil. Include measurements for everything you want to include, leaving room for decorative dividers (if you decide to use them) or blank space so each item stands out.
Step 3: Make or Purchase Shadow Box
Once you know what you're putting into a military shadow box, it's time to buy or make one. Most craft stores sell these deep-frame boxes with a glass front in many sizes. You can even purchase a shadow box with a triangle compartment for a tri-fold burial flag.
Unless you are comfortable with woodworking, many affordable shadow boxes are ready to customize for a special veteran. You'll find an extensive selection on Amazon, Shadow Boxes, Michaels, and other retailers.
Step 4: Create Your Military Shadow Box
Have everything you need on a table or counter. Begin by removing the backing or matting from the shadow box frame. You can use a patriotic background of red, white, and blue or the colors most associated with specific branches:
Army - Green
Navy - Black
Air Force - Blue
Coast Guard - Coast Guard Blue (lighter)
Marine Corps - Red
Carefully arrange items on the background using the photo or your template for guidance. Use double-sided tape or adhesive to attach things. Once everything is in place, put the glass front and secure it.
Hang or display your shadow box as desired.
Planning a Memorial for a Veteran?
Tulip is a certified Veterans Funeral Specialist (VFS) provider. We guide veterans and family members about applying for burial benefits, commemorative headstones, and burial or inurement in a national veterans cemetery. Ask a Tulip care team member for more information.