Get the Veterans Benefits You Deserve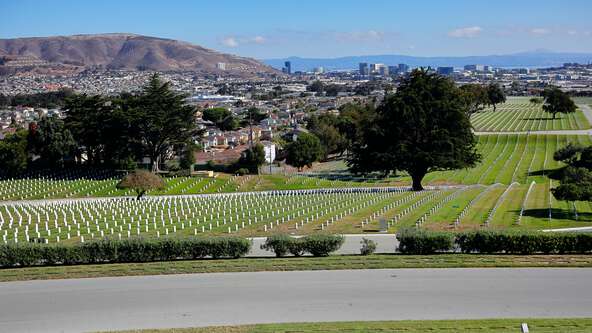 We know that applying for veteran benefits can be a long and complicated process. Tulip is proud to be a certified Veteran's Funeral Specialist (VFS) provider. This designation is your assurance that qualified veterans and family members receive the benefits they may be entitled to receive.
We Help You Get the Benefits You've Earned
Funeral benefits through the U.S. Veterans Administration (VA) and other government agencies are not automatic — you must apply. Tell your Tulip care team member if you or your loved one received an honorable discharge or qualifies in another way for burial benefits. Let our care team guide you through the simple process by phone or online from the comfort and privacy of your home. With Tulip, you never have to drive to a funeral home to make arrangements, organize a service, or inquire about VA benefits.
Burial in a Veterans National Cemetery
Cremated ashes may be buried or interred at a national veterans cemetery at no cost for qualifying veterans, spouses, and dependents. The National Cemetery Administration (NCA) maintains 155 cemeteries in 42 states and Puerto Rico.
VA funeral benefits include the following:
Gravesite opening and closing or placement in a columbarium niche
Government-furnished grave liner (exterior container for a casket)
Perpetual care of gravesite or columbarium
Headstone or grave marker with an inscription
Burial flag
Presidential Memorial Certificate
A two-person honor guard from the specified branch (i.e., U.S. Army, U.S. Air Force, etc.), including the playing of "Taps"
Burial allowances to reimburse for cremation and funeral costs
Your (or your loved one's) benefits will depend on the length of service, type of separation from service (honorable discharge), and other factors.
Our Code of Ethics to Veterans
Along with specialized training and continuous education, every Veteran's Funeral Specialist pledges to our Code of Ethics:
I will honestly and accurately inform veterans and their families of their burial benefits. When representing a veteran or their family, I pledge to protect the interests of my clients like they protected my country.
I will commit to improving my knowledge and continuing my education. I will help veterans and their families keep up to date with the latest benefit changes and information to provide the highest level of service.
I will never forget the sacrifice each veteran and family I serve made for this country. I will give back by supporting veterans in my neighborhood through community service or donations.
I will live my life with integrity, honoring the VFS values of service, knowledge, and gratitude.
Veterans: Plan Ahead with Tulip
While you cannot reserve or preselect space at a national veterans cemetery, you should indicate if you prefer burial or interment in one of these facilities. A Tulip Veteran's Funeral Specialist can help you complete the necessary form when you make preplanned arrangements.
Planning ahead with Tulip offers other benefits, like paying today's prices to protect your finances from inflation. Making arrangements in advance saves your family from having to make hasty decisions. You also ensure that your family understands your final wishes.
Ready to Serve Those Who Served
Only funeral providers with training and certification earn the Veteran's Funeral Specialist (VFS) designation. You can learn more about VFS and start filling out VA forms here. Remember, our care team is here 24/7 to answer your questions. Give us a call whenever you need us!