Teepa Snow's Fight to Destigmatize Dementia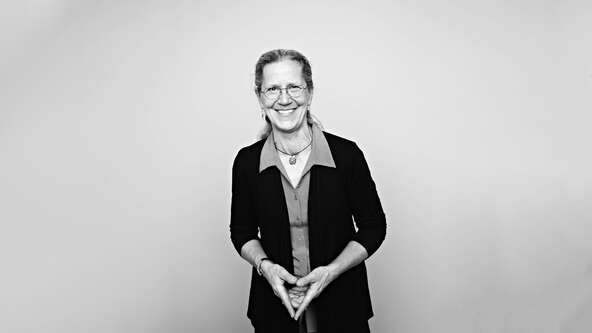 "People are actually able to do a lot more when we change what we do and how we do it," dementia expert Teepa Snow tells Tulip Cremation about her work to destigmatize dementia and other forms of "brain change," including Alzheimer's Disease.
Snow's expertise has earned her a large following on TikTok where her practical videos show all kinds of everyday solutions of interest to both professional and family caregivers coping with difficult interactions with people experiencing dementia.
In one example, Snow portrays a distressed woman shouting at her daughter, "I want to go home." While in the first "skit," the daughter argues, the second take shows the daughter listening reflectively and successfully reassuring her, eventually leading her inside. The video has been seen more than 7 million times. This "Snow Approach" includes tips on validating the words and feelings of the person in distress.
In a video made with the Orange County Emergency Services, Snow demonstrates the difference between a traditional way of strapping a patient into a stretcher with an emphasis on speed and disregard for the feelings of the patient and next shows her alternative approach where the person living with dementia is given some control over the situation and works together with the EMTs to get the buckles closed.
Her pragmatic advice again and again shows how to work in cooperation -- not conflict -- with those being cared for. She shares video tips on a range of topics from helping someone shave to how to reposition them in bed, always with an eye on recognizing their autonomy despite their dementia.
Though she had shared her expertise in more traditional mediums, when Snow took to TikTok to share her tips, she was stunned by the response. But with more than 16 million caregivers each year helping family members changed by dementia, perhaps it should not be surprising that her commonsense solutions to everyday problems went viral there.
Snow is one of the most popular sources of dementia information for both professional and family caregivers. She has more than 250,000 followers on TikTok, is the author of a popular book, hosts a podcast, is planning a PAC conference in November and offers hundreds of videos, webinars and speaking events. She's the person Bruce Willis' family turned to as his cognitive abilities declined.
Snow says in her personal experience with neurodiverse family members and in her professional career, she developed a philosophy she named a Positive Approach to Care (PAC). She says PAC helps preserve dignity, "supporting brain change in a more positive and respectful way."
"I've done a lot of work in this space whether it's at universities, or colleges or at the Alzheimer's Association. It became clearer and clearer to me that people living with changes and differences aren't really on the other side of some line, some imaginary line on the ground that once you are on that side, you are 'this.' It's not an 'us and them.' If we can't collaborate in what we are doing, we can't provide what I consider to be good quality care. It's not going to be care unless you get permission, and the person is ok with what you are doing. We've got to figure it out," Snow said.
Snow, sharing numbers from the Alzheimer's Association, says that 6 million Americans are currently living with Alzheimer's (just one of the many kinds of dementia that exists). But by 2050, that number will grow to 13 million. That's why she says it is so important to figure out care that is consensual and cooperative.
"The numbers are going up pretty dramatically (but) our appreciation of what it means to live with dementia is still super limited and so scary that people don't want to approach it, don't want to talk about it, don't want to think about it, don't want to explore the possibility. So, we often miss early opportunities that are dementia to recognize, 'Wow, I need to build a support network for myself that is going to sustain me as I experience this,'" she explained.
She says though we've seen some improvement over the years in care for those with dementia, there's still more work to be done. "We have learned over time what does help someone living with dementia or their family or professions do a better job. (But) we've got to move beyond the pharmacy. We know for instance that music, and dogs, and being out of doors, and getting a chance to be physically active and socially be active makes a huge difference in how someone's life goes. Predictability is super important for people living with dementia with a little bit of spice," Snow explained.
She compares the experience of dementia caregiving to running a marathon where the hardest parts are at the end and says more resources are needed to support the caregivers. "Frankly, of all the conditions you could get, dementia is one of the poorest resourced of any. You would get much better support if you had cancer or heart disease. Getting support for dementia is so undervalued and yet it costs so much in care costs. It's fiscally draining and most of us could not afford residential care," Snow said.
Snow says we have to make sure that both professional and family caregivers are supported in this sometimes-exhausting work. "We've really got to see this is a dance that we're doing and we're learning about one another and we're building a support structure that is going to help everybody, because we don't need more family members or professionals wearing themselves out."
Teepa Snow graduated from Duke University with a degree in Zoology and the University of North Carolina with an MS in Occupational Therapy. Her clinical, teaching and research experiences have influenced her philosophy, approach and practice. Raised in West Virginia and West Pennsylvania, she's currently living in North Carolina where she runs a busy company dedicated to her PAC philosophy. The whole Snow family has joined her in her work spreading the PAC message. She recently joined artificial intelligence company Sensi.AI as an advisor and has recorded the first in a series called Dementia Divas on Saltbox TV.