Recognizing, Treating and Preventing Caregiver Burnout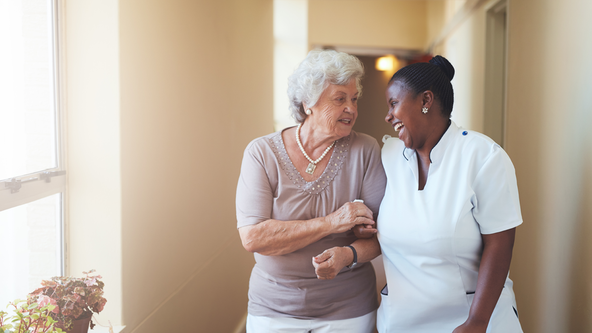 Caregivers of hospice and palliative patients experience significant stress, which can lead to mental and physical complications, or exacerbate existing conditions. Caregivers are often referred to as 'hidden patients' – though not the primary focus of the hospice or palliative team, the holistic approach to patient care taken by this specialty practice recognizes the importance of psychosocial care for everyone involved in the patient's life.
A caregiver's well-being needs to be optimized in order to be able to provide quality care for their loved one. Burnout is a state of physical, emotional and mental exhaustion that stems from long-term stress, often occurring when caregivers don't get the help that they need. Caregiver burnout can take a severe toll on both the caregiver and the patient, and drastically affect their quality of life.
Why Caregivers Experience Burnout
Caregivers experience burnout for a number of reasons, including relationship issues, workload, physical and mental demands and emotional strain.
Relationship Issues
Ambiguity of roles, such as moving from the role of daughter now to caregiver, especially if the relationship was previously strained
Guilt/frustration/anger over feeling obligated to be a primary caregiver
Feeling as though the responsibilities aren't being shared equally between siblings or other family members
Workload
They may have little to no previous caregiving experience
Conflicting demands on the caregiver's time (patient care, family obligations, work stressors, etc)
They may have an internal belief that they need to take care of it all
Distrust of strangers or 'the system' to properly provide care
Financial pressures
Physical and Mental Demands
Emotional exhaustion – they can't make their loved one better simply through supportive care and love
Physical exhaustion – the act of physically caring for, bathing, dressing and transferring a patient is demanding and may be difficult for the caregiver, especially if they have their own existing health conditions or limitations.
Emotional Strain
Lack of privacy in the home with members of the hospice or palliative team coming and going
Embarrassment over admitting to needing help or not being able to do it all
Unaddressed anticipatory grief
Signs and Symptoms of Caregiver Burnout
A caregiver developing or feeling burnout may experience any number of symptoms, including:
Irritability & shorter temper
Impatience, particularly with the patient
Difficulty coping with everyday tasks and responsibilities
Psychosomatic symptoms including headaches, stomachaches, nausea and other physical ailments
Withdrawal from friends and/or other activities / self-isolation
Sleep pattern changes (can be excessive sleepiness or insomnia)
Feeling hopeless and/or helpless
Emotional exhaustion
Physical fatigue, lack of energy
Weakened immune system (getting sick more often than normal)
Eating changes (loss of appetite or excessive eating, can lead to weight loss or weight gain
Significant mood changes – depression or mood swings
Decreased interest in things that once brought joy
Increase in use of alcohol or drugs
Feeling as though caregiving is controlling their life
Neglecting their own physical, mental and emotional needs
Increased anxiety
Lack of motivation
Feelings of resentment
Preventing Caregiver Burnout
Since the hospice or palliative patient has a team of providers overseeing their care with multiple, consistent touch points with the caregiver, this provides numerous opportunities for team members to assess for and help prevent caregiver burnout. Here are some tips to help prevent caregiver burnout.
Check in with caregivers at each visit to the home. Inquire about how they're doing, express empathy and concern, and make appropriate referrals for supportive services. Additionally, remind the caregiver that what they're experiencing is normal, and encourage them to reach out to others for help and support. Feeling as though someone is interested in them and what they are experiencing can go a long way in supporting a caregiver and preventing burnout.
Encourage caregivers to use apps and technology to make life easier. Rather than fielding calls all day long in the midst of caregiving and having to repeat the same information over and over to concerned family and friends, caregivers can use apps like CaringBridge to share updates, make a list of things they/the patient need help with and schedule respite and meal trains. Technology can allow the caregiver to see a mental health provider without having to leave the patient, participate in an online support group, or have groceries delivered directly to their door, which reduces the need to find a respite volunteer or make arrangements to travel to a provider appointment.
Remind caregivers of the Medicare Hospice Benefit, which covers up to five days of respite care for family members.
Encourage the caregiver to step outside while you're there tending to the patient. Even just a few minutes of walking or sitting outside, breathing fresh air and enjoying nature can reduce stress.
Consider creating a handout that describes caregiver burnout, symptoms to watch out for, and tips on preventing and treating burnout. Provide this handout to the caregiver early on, preferably during the intake assessment so the caregiver feels supported and encouraged from the beginning, and understands that you'll be reaching out to make sure they have the resources they need to continue to take care of themselves as well as the patient.
Tips to Treat Caregiver Burnout
If a caregiver is already experiencing symptoms of burnout, share some of the following tips that can help relieve stress and recover from burnout:
Prioritize self-care, including exercising, eating well and getting plenty of sleep. Commit to not missing any of their own doctor's appointments while they are caregiving so that medical conditions do not get worse, inhibiting their ability to provide care.
Schedule small breaks into the day, perhaps while the patient is sleeping or while someone else is with them. Relax, go outside for a few minutes , or take a quick cat nap. Listening to music and having a quick dance break can also help boost one's mood.
Participate in stress reduction activities such as breathing exercises, meditation, yoga, prayer and stretching
Continue to participate in hobbies or activities that relax and/or rejuvenate
Seek out professional psychosocial support such as individual or group therapy, which can be done in person or online
Ask for help from other family members, friends, or others in a place of worship, community group, etc. Help doesn't have to be providing physical care to the patient. It could be sitting with the patient and visiting so the caregiver can pay bills, run errands, etc. Help could also entail cleaning the house, folding laundry and grocery shopping.
Delegate duties – create a calendar to prioritize daily activities, appointments and tasks. Whatever brings about feelings of overwhelm or frustration is something that can be delegated. Resist the urge to micromanage and accept that the task is being done, even if it wasn't done in the way you'd do it.
Express feelings regularly. Talk to a trusted friend or a mental health practitioner. Participate in creative outlets for expressing emotions, including journaling, music and art
Increase laughter. Seek to find the humor in daily life, watch a funny movie, read a funny book, or call a friend who can always make you laugh.
Caregivers are at high risk for experiencing burnout, which can affect not only their own mental and physical health, but the level of care that they are able to provide to their loved one. Hospice and palliative care professionals can play an important role in helping caregivers recognize, prevent and bounce back from burnout.