What Funeral Directors Know About Grief (and you should, too)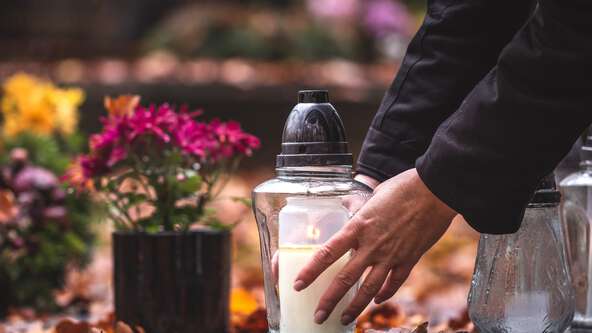 People deal with grief in their way. Most of us lose a grandparent or another older relative when we are relatively young, but this experience doesn't prepare us or make future losses easier to bear. Experiencing the loss of a loved one is different each time.
Here is what experienced funeral directors and professionals want you to know about grief.
Grief Is a Disrupter on Many Levels
For funeral directors and professionals, death is something they willingly and purposefully encounter daily. For the rest of us, being around someone who experienced a loss is an uncomfortable reminder of our mortality.
For the person experiencing grief, their entire world has been disrupted. They're going over an emotional Niagara Falls in a barrel and need a safe place to land.
Emotionally, physically, psychologically, and financially – grief takes apart an ordered existence, even when the loved one has a terminal illness. You're rarely prepared for the onslaught of emotions most people feel after losing a loved one. And because most of us prefer not to think about death or dying, we might not know what to say or do in the face of grief.
What Do You Say To Someone Who Just Experienced a Loss?
As the Community Outreach Director for McGuinness Funeral Home in New Jersey, Elisha Elliott has witnessed many awkward conversations in her nearly nine years in the funeral profession. She says, "People don't know how to handle grief. They know they have to say something, so they pop out a cliche like they're in a better place. It's not that they have ill intentions but they don't know what to say."
Other times, some guests stay silent at a funeral or memorial service. The adage that if you don't have anything nice to say, don't say anything at all could apply to a funeral, but it shouldn't. You're there for your friend, spouse, partner, family member, or work associate and want to say something. But what?
What a Funeral Director Might Say
Here is what a few seasoned funeral professionals suggest.
Offer Condolences
Elisha believes that a sincere "I'm sorry," perhaps followed by a hug or a comforting squeeze on the shoulder, is appropriate. And in reality, be prepared to listen more than you speak. "Grieving people need someone to listen to them," Elisha says. "Be present. Empathize. They're adjusting to a new normal and it doesn't include the person they just lost."
Approach & Share Your Memory
Robert "Bob" T. Roche is a third-generation licensed funeral director who has served with Hiers-Baxley Funeral Services in Belleview, Florida, for the past seven years. Throughout his four decades of experience helping the bereaved, he advocates that people should share their memory of the departed.
Approach them and share a memory of their loved one, Bob suggests. "People who had a loved one die are not lepers," he says. "Mention how important the individual was to you. And say their name whenever you can. It's deeply personal and profound."
Be Tender & Respectful
Well-intentioned individuals might think they're helping when comparing their experience with loss. This particular loss isn't about you, suggests Clair Ferris, a second-generation funeral director and co-founder of Funeral Alternatives of Washington. He says, "You have to be very careful and walk tenderly. You can't take away from what they're feeling and you can't honestly say that you know how they're feeling - even if you'd had the same experience. People feel things differently."
Not Sorry, but Here for You
Kenneth Carlson-McLagan has worked in the funeral profession for 19 years and received his funeral director license in 2012. He's not a big fan of saying "I'm sorry" to a grieving individual.
In Kenneth's experience, some grieving people view death as a release or a relief that ends their loved one's terrible suffering. When you say "I'm sorry," you could disrupt an emotional structure that comforts the bereaved.
"That's why I never say I'm sorry, I say, I'm here for you," Kenneth says. "I tell family members that I'm going to be with them, step by step, to make things more bearable. Mostly, I ask about their loved ones. I give them a safe space to share about who they were and what they meant to the bereaved."
Grief Upsets Your Sense of Security
Grief is exhausting. Whether it's a widow with children trying to adjust to parenting without a partner or children mourning the death of a parent, grief is a tremendous shock to the mind, body, and soul.
Peter Rose, a licensed funeral director with Betz, Rossi, Bellinger & Stewart Family Funeral Homes, explains his perception of life after someone dies: "It's like a train derailing. We scoop them up and put them back on the tracks of life."
Peter believes that guiding someone through grief looks and feels different for everyone. Maybe it's offering to bring dinner one night, pick up their kids from school, or walk the dog. "Whatever that interaction means to you, it requires grace and humility," Peter says.
How to Help on National Grief Awareness Day
National Grief Awareness Day is a good reminder of the many ways and resources available.There are also simple ways for you to support someone – including yourself – who is grieving right now.
Be a Consistent & Caring Presence
Be an extra shoulder for a friend or family member to cry on. If you're grieving, this is the time for you to lean on those who love you and want to help. Although people process their feelings differently, unconditional support is always welcome.
Promote Self Care
It is tempting to ignore our physical and emotional needs in the throes of grief. Being gentle and patient and engaging in self-care is vital to bring a sense of normalcy and welcome routine into our lives.
Use #NationalGriefAwarenessDay on Social Media
Help share what you've learned about grieving on social media. Use the hashtag #NationalGriefAwarenessDay to encourage others to become educated on grief and the need for open communication.
Know When to Ask for Help
Grieving individuals need a safe space to process their loss. They should be able to share their feelings without judgment. This safe space could be with friends, family members, and clergy. There are also licensed counselors and mental health professionals to provide greater support. You can find links to many resources through your local hospice or healthcare provider, the National Hospice and Palliative Care Organization, and the Centers for Disease Control and Prevention (CDC).