Why Hospice Social Workers Are VIPs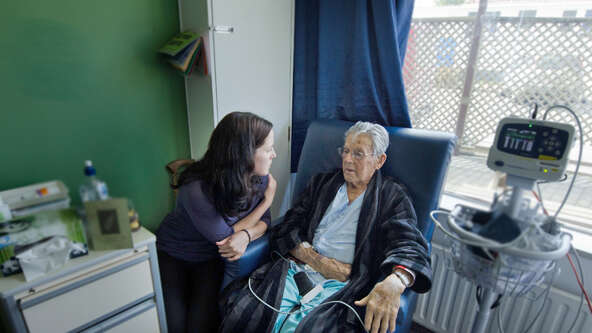 March is Social Work Month, when we recognize social workers' incredible contributions to Americans' physical and mental well-being. This article focuses on hospice social workers whose expert, gentle guidance eases the uncertainty of dying for patients and their family members. Keep reading to learn more about hospice care.

What Is a Hospice Social Worker?
Hospice social workers are trained, licensed professionals who focus on end-of-life care. They help patients and families navigate many social, emotional, and financial challenges. Many are Licensed Clinical Social Workers (LCSW), an academic and professional designation that authorizes them to assess, diagnose, and recommend treatment options. Some hospice social workers hold an MSW (Master of Social Work). Approximately 137,000 licensed hospice social workers are currently providing care throughout the country.
How Hospice Social Work Benefits Families
Hospice social workers are often the glue that holds together a hospice team. Part patient advocate and care coordinator, a hospice social worker's focus is creating the best possible environment for patients at the end of their lives. Their goal is to ensure a comfortable quality of life for patients and family members in hospitals, nursing homes, hospice facilities, or wherever they call home.
Hospice social work programs cover the following areas:
Ensure Continuity of Care
Hospice social workers coordinate care from the family doctor, hospice physician, registered or practical nurse, spiritual counselor, home health aide, and volunteers. Keeping track of appointments and interactions of many providers isn't easy on family members. Having a social worker as a key point of contact reduces stress in a highly dynamic environment.
Provide Emotional and Spiritual Comfort
Hospice social workers consider and respect each patient's ethnic, cultural, and religious background. They can help patients work through their fears and anxieties about dying. Hospices provide a pathway for a variety of religious and spiritual leaders to address specific issues in different faiths.
A hospice social worker can help family caregivers recognize and prevent burnout. They connect family members to respite programs and other resources, including spiritual counselors and mental health professionals.
Apply for Financial Resources
Hospice social work is also a resource for families who need financial assistance. A hospice social worker helps families apply for Medicaid, Medicare, long-term care insurance benefits, veterans' benefits, and other assistance programs, such as Meals on Wheels.
Assist with End-of-Life Planning
Some hospice patients need to prepare for end-of-life decisions. A social worker helps them understand the importance of creating a will, advanced healthcare directives, and other legal documents.
Hospice social workers educate family members on what to expect at the time of death and afterward. They may connect families to funeral professionals to help them gather the required paperwork and inform necessary organizations about their loved one's passing.
Provide Grief Support
Hospice social work includes bereavement support for everyone in the family, with age-appropriate resources and activities. They also help the patient and family members understand and accept a terminal diagnosis.
Hospice Versus Palliative Care
Family members often ask social workers about the difference between hospice and palliative care. Hospice care and palliative care are similar but different kinds of medical treatment. Palliative care may be given anytime after someone is diagnosed with a serious but not always terminal illness (such as Parkinson's Disease). Palliative care provides pain management and curative treatment when available.
The timeframe for hospice care is typically in the last six months of life. Hospice focuses on pain management and quality of life when there is no cure or the patient discontinues treatment to keep the disease from progressing (such as chemotherapy).
Ways to Celebrate Social Work Month
Only a month to celebrate the incredible contributions of these dedicated professionals? Tulip has suggestions on how to make the most of it!
Give a Gift Card
Consider giving the hard-working social workers you know a gift card to their favorite restaurant. Social workers spend a lot of time on the go, so a free coffee or lunch would be appreciated.
Bring Them Treats
Most hospice social workers have a home base of operations. Find out when they're usually in the office and send a dozen donuts with coffee, a fruit and cheese platter, or a catered lunch.
Be Social
Post a compliment or thank you on your social media account and tag @nasw on Twitter and @naswsocialworkers on Facebook and Instagram. Use #SocialWorkMonth and SWMonth2023.
Hospice social workers help patients and families adjust to the many challenges after a terminal diagnosis and throughout the end-of-life journey. Tulip is proud to support community hospice care. We are committed to providing hospice social workers with the resources and tools to help make their jobs easier.
To make arrangements for a loved one who is expected to pass in the near future, please click here or call our Tulip care team 24/7 at (844) 942-4909.