Do Airlines Offer Discounts for Funeral Travel?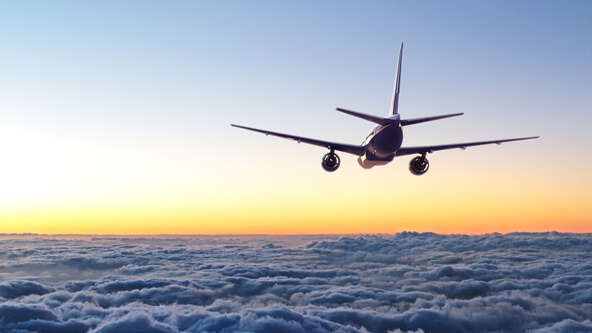 For years, airlines offered cheaper flights when a close relative died or is dying, but most have discontinued this compassionate service. Keep reading to find out which airlines still have bereavement flights.
In times of grief, airlines offered cheaper bereavement flights so loved ones could say their goodbyes or pay their respects. While the availability and policies surrounding bereavement flights vary among carriers, a few airlines still offer cheaper flights when you must travel for a relative's imminent passing or funeral.
Bereavement fares cost approximately 10 to 20% less than published airfares. Additional fees, such as local taxes, transfers, and checked baggage may apply.
The following airlines offer discounted bereavement flights.
Alaska Airlines
Alaska Airlines has bereavement flight options for customers who need to travel within seven days of the death of an immediate family member. Eligible individuals receive a 10% discount off the lowest available fare for their desired trip. It's important to note that these discounted fares are exclusive to Alaska Airlines flights and certain operated flights.
Before You Book:
Alaska Airlines' discounted bereavement fares apply only to customers who have lost a member of their immediate family:
Spouse or domestic partner
Child, stepchild, or grandchild
Parent, stepparent, or grandparent
In-laws
Sibling or step-sibling
Aunt or uncle
Niece or nephew
Discounted fares are applicable on Alaska Airlines flights and flights operated on behalf of Alaska by Horizon or SkyWest. Travelers over 18 must be enrolled in Alaska Airlines' frequent miles club.
View Alaska Airlines' bereavement travel policy.
To book a flight: Customers must contact Alaska Airlines reservations and customer service at 1-800-252-7522 to secure a bereavement fare.
Air Canada
Air Canada extends bereavement discounts on Economy Class fares (excluding Economy Basic) for immediate family members. This includes spouses, children, parents, siblings, legal guardians, and more. The bereavement fare applies to Air Canada, Air Canada Rouge, and Air Canada Express flights.
Air Canada's bereavement fare policy is more complicated than other carriers but offers an extended travel window. You must travel within 10 days of booking, but you have up to 60 days to complete your trip. That makes it easier – and cheaper – if you have to stay and settle your loved one's estate.
Before You Book
Air Canada requires the following documentation when you call to request a bereavement fare:
Name of your ill family member and your relationship to them,
Name of the hospital or hospice, if applicable,
Name and contact information of attending physician, OR
Name and contact information of the funeral home, plus the date of the funeral or memorial service
The airline also asks for supporting documentation as evidence of your loss, such as a copy of the death certificate, the funeral director's statement, the coroner's statement, registration issued by a provincial government, or a letter from the treating physician on official letterhead or a prescription pad.
View Air Canada's bereavement travel policy.
To book a flight: Call Air Canada's Flight Info and Reservations customer support line at 1-888-247-2262 and be ready to provide the necessary documentation.
Delta Airlines
Delta Airlines has a fairly robust discount program when a loved one dies or is expected to pass soon. Delta's bereavement policy covers domestic and international flights, with additional flexibility on the best-published fare for your itinerary if your travel plans change. Delta waives service fees on all outbound and return bereavement flights.
Bereavement flights are available on Delta-marketed and -operated flights as well as Delta Connection flights. Frequent Delta travelers can use their Medallion Complimentary Upgrades and Complimentary Companion Upgrades to upgrade their domestic and international flights.
Like other airlines, you'll need to provide documentation from authorities that your loved one's death is imminent or for the funeral. Also, bereavement flights are only available to SkyMiles members. If you are not a SkyMiles member, you can join immediately before making your reservation.
Before You Book
Under Delta's policy, international bereavement flights may be subject to further restrictions and are not eligible for Mileage Upgrade Awards and Upgrade Certificates.
Under Delta's policy, immediate family members include:
Spouse or domestic partner
Parent, stepparent, or grandparent
Child, stepchild, or grandchild
Sibling or stepsibling
In-laws
Aunt or uncle
Niece or nephew
View Delta's bereavement travel policy.
To book a flight: Customers must call Delta Reservations at 1-800-221-1212 for domestic flights or 1-800-241-4141 for international flights and request bereavement fares.
Hawaiian Airlines
Hawaiian Airlines only provides bereavement fares for neighboring island travel within Hawaii under their "Neighbor Island Emergency Travel." They do not offer cheaper flights for grieving customers traveling to or from the contiguous 48 states, elsewhere in North America, or internationally. However, the air carrier will waive ticketing fees for phone reservations booked within 48 hours of a family member's passing. And they extend discounted rates to your traveling companions, provided they make reservations under the same confirmation number.
Another benefit to travelers is the airline's bereavement waiver policy. If you have to change or cancel an existing flight due to the loss of an immediate family member or traveling companion, you may request a ticket refund or change fee waiver.
Before You Book
Hawaiian Airlines' bereavement flights are available for spouses, children, parents, siblings, grandparents, grandchildren, stepfamily members, and in-laws. Be prepared to provide documentation for an emergency travel fare or a bereavement fee waiver, including:
Copy of the death certificate
Proof of family relationship (like a birth or marriage certificate)
Copy of your ticket
If you booked at the full rate, Hawaiian Airlines will refund you the difference between the fare you paid and the emergency fare.
View Hawaiian Airlines' bereavement travel policy.
To book a flight: Call Hawaiian Airlines reservation number 1-800-367-5320 for bereavement fares or fee waivers.
WestJet
WestJet's bereavement fares extend to guests traveling to the funeral of first responders (police officers, active duty military, or emergency service personnel) who died in the line of duty. They also offer cheaper flights for travelers visiting a gravely ill relative or attending their funeral.
WestJet offers bereavement fares for spouses, partners, parents, siblings, children, nieces and nephews, aunts, uncles, and legal guardians. Bereavement flights are available for WestJet's Econo and EconoFlex fares only. Unlike most airlines, WestJet offers post-travel bereavement refunds in case of an unexpected death or if you did not request the lower fare when you made the reservation. Guests can submit their refund request (along with the required documentation) online.
Before You Book
You must complete travel, including your return trip, within 30 days of booking your first flight.
Bereavement rates are unavailable on the company's partner airlines or WestJet Vacations flights.
WestJet requires proof of a relative's illness or passing.
While you can request a post-trip refund online, you must make bereavement reservations by phone.
Visit WestJet's bereavement travel policy.
To book a flight: Call WestJet's general inquiries line at 1-888-937-8538 to book bereavement flights.
Other Ways to Find Cheap Flights
Many airlines do not advertise bereavement rates on their website, but you can still ask about a discount if you call their reservation or customer service number. You could save on airfare, fees, or both if you're prepared to make your case with documentation and good phone manners.
Here are other ways to save when booking an emergency flight.
Discount Ticket Websites
Consider using popular discount ticketing websites like Priceline, Travelocity, Google Flights, or AirFareWatchdog to find cheap last-minute airline tickets to the destination near your loved one's funeral.
Bundle Your Travel Needs
To save time and money, consider booking airline tickets, hotel rooms, and rental cars as a bundle from websites offering all-in-one booking options. Some hotels may also provide special bereavement rates.
Contact Your Credit Card Company
Check if your credit card company offers travel discounts or rewards programs that could help you secure a lower rate for your flight. Be sure to review the terms and conditions.
Ask about Other Discounts
Some airlines offer discounts to active military or first responders, veterans, seniors, and young adults. Search their website or call to ask about other discounts that may apply.