5 Things To Know About Cremation Jewelry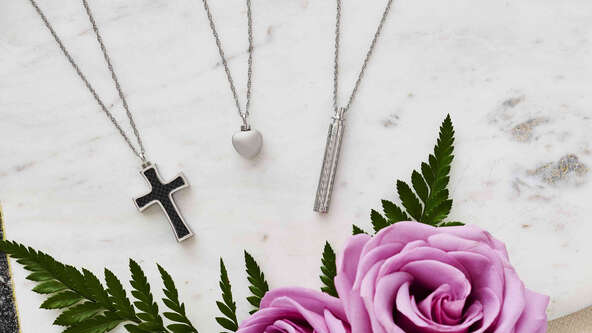 Cremation jewelry lets you keep your loved one close in specially designed necklaces, rings, keychains, and lab-created diamonds. It's a beautiful and loving way to honor their life and legacy. Keep reading to learn about ways to wear memorial jewelry.
#1: Cremation jewelry isn't just for ashes.
Cremation or memorial jewelry is designed to safely contain a memento of your loved one, but it's not limited to cremated ashes. Some people use a lock of hair, dried flowers, soil from the burial site, or even a tiny piece of their loved one's clothing. Many meaningful and appropriate souvenirs can be used.
Cremation jewelry is for men and women. With memorial jewelry growing in popularity, you can find a style and type that is functional and meaningful.
When you purchase cremation jewelry at the same time or within five days of completing your Tulip arrangements, our crematory staff will fill the piece. Many families prefer this option as they do not want to handle their loved one's cremated remains directly.
<< Is cremation the right choice for you? Learn more >>
#2: Cremation jewelry comes in all types and styles.
There are many types and styles of unique cremation jewelry: necklaces, bracelets, rings, and keychains. Whatever keepsake you select, you only need a small portion. For ashes, you may keep the remaining amount in an urn, bury, or scatter.
Let's take a closer look at the most popular types of cremation jewelry.
Urn Necklace
Like the traditional receptacle it's named after, the urn necklace has a secure interior for storing ashes or other items. Urn necklaces are available in various materials, metals, and sizes. Most urn vials can be personalized with names, dates, designs, or phrases to capture someone's memory.
Locket Necklace
A locket necklace is a popular type of cremation jewelry. It has a hinged opening that lets you carry your loved one's photo and their ashes or hair. Many associate a heart-shaped locket with memorial jewelry, but other shapes are used, too. You can find crosses, the Star of David, military emblems, and other symbols from specialty sellers.
Cremation Bracelet
Necklaces aren't the only type of memorial jewelry to keep loved ones close. Cremation bracelets securely hold ashes with an attached pendant, or they can have a hollow interior.
Some cremation bracelets have a plate where you can engrave your loved one's name or an image of their signature.
Cremation Rings
A cremation ring contains ashes within the hollow band or in an ornamental compartment. The band might be smooth or braided.
Cremation rings are available for men, women, or gender-neutral designs. They can be made from stainless steel, sterling silver, or gold.
Keychains
Memorial keychains are the ideal solution for someone who doesn't wear jewelry but wants to keep a loved one with them. Ashes are securely encased in a hollowed interior or pendant.
When you think about how often you carry your keys, you understand the popularity of memorial keychains. Your loved one is with you wherever you go.
#3: Cremation jewelry can be a gemstone.
Memorial diamonds are the ultimate cremation to jewelry transformation. These unique gemstones are heirloom quality, designed to pass through generations.
Cremated ashes or human hair contains carbon, the same ingredient in mined diamonds. Companies like Eterneva combine heat and pressure to form lab-created memorial diamonds.
Once created, memorial diamonds can be a feature in your favorite jewelry settings, from necklaces to rings. They beautifully demonstrate the timelessness of love.
#4: Cremation jewelry is for everyone.
Memorial jewelry comes in all different materials, metals, and sizes. They are available in masculine, feminine, or gender-neutral styles. When it comes to choosing the right cremation jewelry, consider these factors.
Wearability
Think about how and when you wear jewelry. If you work with your hands, you might prefer a cremation necklace. If you have a casual style, consider if you would wear a memorial diamond ring.
Discretion
Cremation rings, bracelets, and some locket necklaces look like regular jewelry. An urn vial, however, is distinctive. If you'd rather not face questions about your accessories, choose them carefully.
Durability
Some cremation jewelry styles and materials are more durable than others. You don't want to risk losing your loved one's ashes or having them spill out.
<<After you've selected cremation jewelry, consider an interment of ashes ceremony>>
#5: You take care of cremation jewelry like other delicate keepsakes.
Caring for cremation jewelry is similar to treating other jewelry pieces. Avoid wearing them if there is a chance your cremation jewelry could be tangled, scratched, or pulled from you. As for the metal or material, follow the manufacturer's guidelines. Only use the cleaning or storage materials that they recommend.
Your loved one's ashes are completely sealed and encased, but you should avoid immersing your jewelry in water. Remove cremation jewelry before sleeping, showering, or swimming.
Cremation Jewelry from Tulip
For your convenience, you can buy cremation jewelry from Tulip when you make arrangements with us. We fill your selection with ashes and send the remainder in a simple container or the urn of your choice via U.S. mail.
We're constantly adding unique cremation jewelry options. Ask your care team member for details about cremation ash jewelry or memorial diamonds.
Memories Are Meant to Be Shared
Cremation ash jewelry lets you keep your loved one with you. It is a tangible, touchable reminder of their presence. Whatever style or type you select, you ensure their memory is kept alive for you and with you. It is a meaningful and personal memorial.