Honor Them with Flair: Cremation Fireworks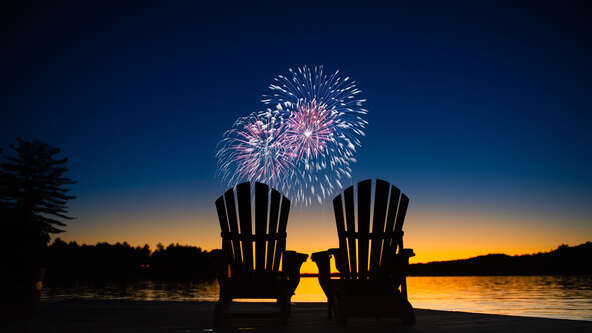 Create a celebration of life for someone special with a dazzling fireworks display. Cremation or memorial fireworks are a bold and beautiful way to say goodbye. Keep reading to learn more.
Cremation offers many ways to honor your loved one, from beautiful cremation urns displayed at home or in a columbarium to cremation fireworks to scatter their ashes after a dazzling sky display.
Cremation fireworks, also known as memorial fireworks or ash scattering fireworks, are a unique way to commemorate and honor the life of a departed loved one. Designed by pyrotechnic professionals, these fireworks use a small amount of your loved one's cremated remains to create an incredible display.
Beyond the traditional funeral or memorial service, these fireworks provide an opportunity to celebrate a life in a truly spectacular manner. The dazzling display against the night sky allows family and friends to unite. It might be the perfect celebration of life for someone who always wanted to "go out with a bang."
What Are Cremation Fireworks?
You cannot simply load cremated ashes into fireworks sold online or from a roadside vendor. That is both unsafe and likely illegal. Cremation fireworks are professionally created, commercial-grade fireworks similar to those used for the Fourth of July and other celebrations.
Most memorial fireworks use approximately three tablespoons of cremated remains loaded into a fireworks shell. These remains are carefully mixed and integrated into the firework composition, ensuring stability and safety during the display. Professional technicians handle the process with the utmost respect and sensitivity. After a dazzling array of "regular" fireworks, the shell containing the ashes is used in the finale. Cremation fireworks can be customized by size, color, and design, offering a range of options to create a personalized tribute.
A Stunning Symbolic Farewell
For some families, cremation fireworks hold deep symbolism. The bright bursts of color and fleeting nature of fireworks reflect the transient beauty of life. They represent the release of the departed loved one's spirit, allowing it to ascend and shine brightly one final time. And the explosive energy and grandeur of a fireworks display also symbolize the indelible mark someone unique leaves in our hearts and memories.
The late author Hunter S. Thompson might be the first American to have a fireworks-related scattering. In 2005, his cremated ashes were shot out of a cannon during a patriotic red, white, and blue fireworks display.
Cost Considerations
Cremation fireworks range in price from $1,000 to $3,500 for approximately two to four-minute displays. Only a handful of professional pyrotechnic companies offer memorial fireworks, which can keep costs higher.
Cremation fireworks can be launched from various locations, such as private property, a designated fireworks site, or over water. It will be up to you or the fireworks provider to check local regulations, obtain the necessary paperwork, and pay any fees.
Remember, if you're considering cremation fireworks, consult professionals who can provide the necessary information and guidance based on your specific requirements and local regulations.
Choosing Cremation Fireworks
Cremation fireworks offer families a remarkable way to bid farewell to their loved ones. They combine fireworks' awe-inspiring beauty with the departed spirit's release. Including a small portion of cremated remains adds a deeply personal touch to the event. Ultimately, cremation fireworks provide an extraordinary opportunity to honor and celebrate a life boldly and symbolically.